Resignation of Tohra sought
CHANDIGARH, Dec 16 — In Akali politics, turns and twists are as swift as these are unpredictable, often acting as a catalyst for the process of either assimilation or elimination.
Patch-up chances
remote
AMRITSAR, Dec 16 — Even as Bhai Ranjit Singh, Jathedar, Akal Takht, offered to mediate if he was approached by both sides, there was no chance of bringing about rapprochement between the warring Akali leaders
Who
gains
if
Punjab loses?

by
Hari
Jaisingh
Barnala's intervention sought
NEW DELHI, Dec 16 — Mr Onkar Singh Thapar, former national general secretary of the Shiromani Akali Dal, plans to seek Mr Surjit Singh Barnala's intervention in resolving the crisis in the Akali Dal.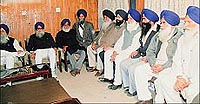 The SGPC executive committee members who met in Chandigarh on Wednesday and adopted a resolution seeking the resignation of the SGPC president, Mr Gurcharan Singh Tohra — A Tribune photo
Disciplinary panel of Dal meets today
Tohra 'creating' rift in SAD:AISSF

Only 5 at Amritsar meeting
Vajpayee talks to SGPC chief
Badal meets Takht chief