Talwandi may be SGPC chief
CHANDIGARH, Dec 18 — The Shiromani Akali Dal Disciplinary Action Committee again met in Chandigarh today to give final touches to the show-cause notice to be served on the SGPC President, Mr Gurcharan Singh Tohra. The name of Mr Jagdev Singh Talwandi is being mentioned as the likely choice of the SAD president.

Tohra to abide by Takht chief's advice
AMRITSAR, Dec 18 — Mr Gurcharan Singh Tohra, SGPC president, has decided to keep mum on the present crisis within the SAD as advised by Akal Takht chief Bhai Ranjit Singh.

CM has abandoned Panthic agenda: Rode
JALANDHAR, Dec 18 — Akali Dal (Panthic) president Jasvir Singh Rode today took exception to the "political offensive" launched by Chief Minister Parkash Singh Badal's camp against SGPC president Gurcharan Singh Tohra.
Third wave of attack on Iraq
Russia recalls envoys to USA, UK
DUBAI, Dec 18 — The US and British forces launched a third wave of attack on Iraq even as President Saddam Hussein tonight said "there will be no compromise."

House begins debate on impeachment

Speaker-elect admits
to adultery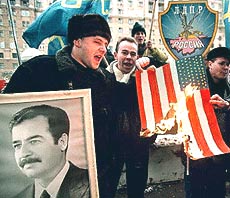 Members of Russia's ultra-nationalist Liberal Democratic Party burn a handmade US flag while holding a portrait of Iraqi President Saddam Hussein during a demonstration in front of the US Embassy in Moscow on Friday protesting against the air strikes on Iraq — AFP