Uttaranchal Bill introduced
Noisy protest by Akalis, Trinamool Congress
NEW DELHI, Dec 22 — Two adjournments, noisy scenes, a scuffle and protests marked the day's proceedings as the Government introduced Bills for the creation of Uttaranchal and Chhattisgarh states in Lok Sabha but held back one relating to Vananchal.

Military Hospital gutted
SHIMLA, Dec 22 — The historic building housing the Military Hospital here was reduced to ashes in a devastating fire early today. Five fire tenders, including one of the Army, battled the flame for three hours but failed to save the structure.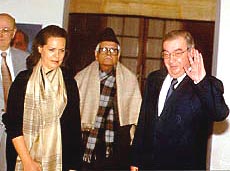 Congress President Sonia Gandhi with Russian Premier Yevgeny Primakov at her residence in New Delhi on Tuesday. — PTI
Strategic partnership planned
NEW DELHI, Dec 22 — Russian Prime Minister Yevgeny Primakov today concluded a fruitful two-day official visit to India during which the two sides reaffirmed their determination to impart a qualitatively new character and long-term perspective to their ties.
India may buy 200 MBTs
Pact unnerves Pak