Bill on Vananchal
introduced
LS adjourned repeatedly
NEW DELHI, Dec 23 — The Lok Sabha's session was today adjourned sine die abruptly amid protests by Rashtriya Janata Dal and Samajwadi Party members over the introduction of the Bill for Vananchal.

Budget session to be advanced
NEW DELHI, Dec 23 — The Patents Bill is to be taken up in the Lok Sabha during the ensuing Budget session which will be called ahead of schedule.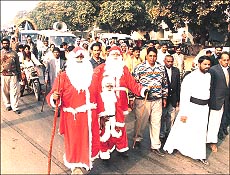 A "shobha yatra" being taken out by the Christian community in Chandigarh on Wednesday, heralding Christmas.
— A Tribune photograph
Punjab bans recruitment
CHANDIGARH, Dec 23 — Bedevilled by the unprecedented financial crisis, the Punjab Government has completely banned fresh recruitment in the State.