SGPC is a wing of SAD: Badal
JALANDHAR, Dec 24 — In a clear message to beleaguered SGPC President Gurcharan Singh Tohra, Punjab Chief Minister Parkash Singh Badal today said the Shiromani Akali Dal was "supreme" and the SGPC was an integral wing of it.

VHP not to obey adverse SC verdict
JAIPUR, Dec 24 — The Vishwa Hindu Parishad today said it would not accept the Supreme Court verdict if it went against the construction of Ram Temple at Ayodhya and would launch a nation-wide agitation to force the government to allow the construction through legislative measures.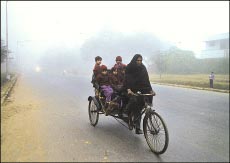 Fog and cold notwithstanding, rickshaw-pullers and children have little choice but to venture out. This picture was taken in Chandigarh on Friday morning, a day before the winter vacation begins on Christmas. — Tribune photo by Pankaj Sharma.
Fog hits rail, road, air traffic
NEW DELHI, Dec 24 — Delhi is likely to celebrate a 'White' Christmas tomorrow but the weather office says the New Year may witness clear skies, even as thick fog continued to envelop the Capital for the sixth consecutive day today.