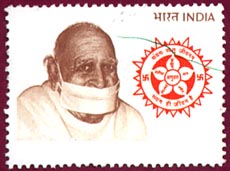 Questions
1. Identify the personality in the stamp.
2. When was the stamp issued?
3. In which denomination was it issued?
4. Who was he?
5. What is the full form of abbreviation COMP in philately?
6. What is the monetary unit of Belgium?
7. If a stamp bears the name Karnten.C.K.C., can you tell the name of country which was issued it?
8. Which organisation was commemorated by a triangular — shaped stamp in 1985?
Answers
1. Acharya Tulsi.
2. October 20, 1998.
3. 300 paise.
4. He was a philosopher, writer, poet, singer, orator, spiritual saint and a great social reformer.
5. Complete.
6. 1 Franc of 100 centimes.
7. Carinthia.
8. The Border Roads.
—N.W.