No bowing to pressure on N-issue: PM

NEW DELHI, July 22 — The government today firmly declared in the Lok Sabha that India would not give in to any pressure on the nuclear non-proliferation issue, including the signing of the Comprehensive Test Ban Treaty (CTBT), and would face the sanctions imposed on it following the Pokhran tests...
Jaya accuses BJP of opportunism

CHENNAI, July 22 — The AIADMK supremo, Ms Jayalalitha, today charged the BJP with rank political opportunism in delaying a decision on the Cauvery waters dispute. She demanded early notification on interim award for the supply of water to Tamil Nadu but stopped short of repeating or enlarging her warning of "dangerous consequences...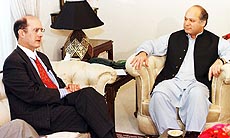 U.S. Deputy Secretary of State Strobe Talbott chats with Pakistani Prime Minister Nawaz Sharif before their meeting at the Prime Minister house in Islamabad on Wednesday. AP/PTI

Pakistan for 'meaningful
talks' with India

ISLAMABAD, July 22 — Pakistan today told the USA that it was ready to have a "meaningful dialogue" with India to resolve the Kashmir issue and also to reduce tension in south Asia...