LS passes power amend Bill

Pvt investment in transmission allowed
NEW DELHI, July 23 — The Lok Sabha today passed the Electricity Laws (Amendment) Bill which provides for private investment in power transmission, with the government assuring that the move did not mean privatisation of transmission...

Daylight murder in city

CHANDIGARH, July 23 — In yet another daylight murder, a property dealer of Sector 21 was shot dead by some unknown car-borne assailants in the city here this morning. A property dispute is stated to be the cause of the incident.
The main eyewitness to the murder was 12-year-old Preeti, daughter of the deceased, Baljinder Singh 'Rocky', who was riding pillion on her way to a school at about 7.30 am...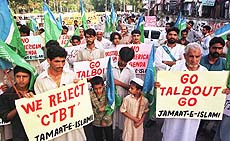 Activists of Pakistan's Islamic fundamental party Jamat-i-Islami holding a rally against arrival of Strobe Talbot, U.S. Deputy Secretary of States, in Islamabad on Wednesday. AP/PTI
Pak refuses to sign CTBT
ISLAMABAD, July 23 (PTI) — Pakistan has categorically conveyed to the USA its refusal to sign the Comprehensive Test Ban Treaty (CTBT) linking it with security concerns and the Kashmir issue.
Contrary to earlier indications that Islamabad might take a line independent of India to sign the treaty...