TELEVISION

The show that goes on forever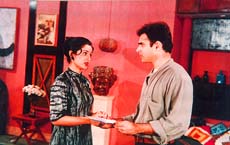 IF after 500 episodes, viewers hadn't had enough of Swabhimaan on Doordarshan, they can now see it all over again daily on Star Plus at 3 pm.
The saga of the Malhotra family and the relentless efforts by their enemies to usurp their happiness, Swabhimaan has been directed by Mahesh Bhatt and its provocative storyline is by none other than Shobha De. The story revolves around the alluring and sensuous Svetlana, the late Keshav Malhotra's mistress and her efforts to restructure her life after her lover's death amidst the opposition faced by her from the Malhotra family members.
The story commences with the death of Keshav Malhotra where the people affected by his death — his mistress, Svetlana, his wife, Ranjana Devi, his son, Rishabh, his brother, Mahen and his uncle, Tanji — all want to stake a claim for the leadership of the prosperous Malhotra Industries.
However, destiny seems to have planned a very tumultuous journey for the Malhotra family. Devika, Keshav's second mistress reveals that Karan is Ranjana Devi's illegitimate son. Svetlana and Ranjana are also fighting for their rights regarding property issues Svetlana's brother, Dinesh Shah, a powerful underworld don, also comes into the picture.
So, for people with a stomach for soap, it's an year-and-a-half of Swabhimaan all over again. It's said that the show must go on. But this one seems to be going on forever.
Without Malice
It's a unique series which looks at the history of post-Independent India from political cartoonists' perspective. From Jawaharlal Nehru [1947 to 1965], the first Prime Minister to I. K. Gujral (upto March 1998), Without Malice started on July 22 on Star Plus. it covers 50 years of Independent India.
The show has been conceived and directed by K. Bikram Singh and is anchored by veteran stage personality and actor Girish Karnand and Meenakshi Rani.
The theme involved intensive and extensive research of cartoons from old newspapers like The Statesman, The Times of India, The Hindustan Times, The Hindu, The Pioneer, The Indian Express and The Free Press Journal. Besides these newspapers cartoons have also been researched from the weeklies like Blitz, India Today and The Outlook.
Works of renowned cartoonists like R.K. Laxman, Shankar, Enver Ahmed, R.C. Bannerjee, Sudhir Dar, Abu Abraham, Thanu, Ajit Ninan, Ravi Shankar, Kutty, Unni, Sudhir Tailang and Keshav, are featured in the series.
Apart from being entertaining, Without Malice is a virtual eye-opener for those who enjoy politics and the satirical humour that surrounds it.
A model of success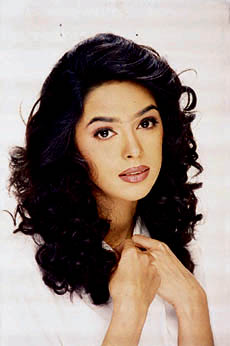 She's declined roles in serials like Hasratien and Zanjeerin. But then, if one happens to have a face like Reema Gill's offers do pour in. And recently she got one she just couldn't refuse.
A model by profession, Reema has done upmarket assignments like Maruti Omni, Duncan Tea and Valentino Shoes. But what she got after that made her head spin with excitement. She was offered a BPL commercial opposite none other than Amitabh Bachchan. "I was totally floored. And very nervous," says the philosophy honours graduate from Delhi's Miranda House.
And nobody can blame Reema for her nerves. After all, being paired with Bachchan is not an everyday kind of an assignment. However, the young lady's anxiety vanished the time she met the Big 'B'. He soon put her at ease with his easy-going style.
Though both modelling and TV offers have started coming in a spate after the dream assignment, Reema has other plans. She wants to take up law and put in some years of legal practice and then, believe it or not, make a bid for Parliament. And, if she succeeds, she'll surely add life to those Lok Sabha proceedings which are so dull that rigor mortis sets while viewing them.
Twist in the tail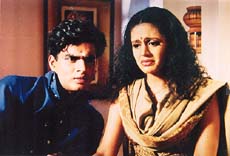 Here's another national integration serial with a twist in the tail. It's about Malayatoor Subramanium Namudripad (R. Mahadevan) a Keralite who is in love with Chandani (Mandira Bedi).
When the girl's father, Bishamber Mehra (Satish Shah), a proud Punjabi with caste blinkers over his eyes, comes to know of the affair he decides to scare the young man by telling him that he would have to stay as a Ghar Jamai if he marries Chandani.
But his plans go for a six when Namudripad readily agrees. And then start the cat-and-mouse between the two. In the predictable end they both discover the qualities of each other and live happily ever after.
Despite the presence of Satish Shah, back on the small screen after a seven-month gap, the humour wears thin. And the weak script reduces Ghar Jamai into drab serial — a case of old wine in a new bottle.
Saint or opportunist?
Her rise to stardom and romance with prominent politician, Juan Peron, were as controversial as they were dramatic, yet there is no argument about her lasting impact on the people and culture of Argentina. Watch her on Discovery Channel as a part of the Portraits anthology. Evita: The Story of Eva Peron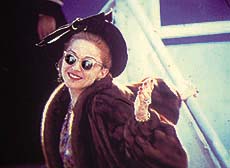 The lady grew up with a fierce determination to be "somebody" someday. After her marriage to Argentina's President Juan Peron in 1945, Eva sought to erase all evidence of her past and stood by her husband with an unremitting devotion.
Making a place for herself in the political world, Eva bcame "Evita", champion of the poor and a political Robin Hood. Eva Peron died of cancer at age 33, becoming a martyr to the poor who loved her. She was a mystery to those who questioned her motives.
With archival footage, reading from Eva Peron's own diary and letters, and interviews with Madonna [who played Evita in the popular 1996 movie] Evita: The Story of Eva Peron seeks to reveal the "true" Eva Peron. Discovery Channel brings you the story of a woman who had the courage to stand up for what she believed and, in doing so, changed history.
Engineering a hit on small screen

By A. L. Chougule
AMIT BEHL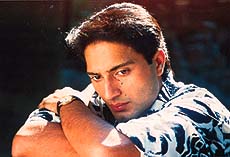 wanted to forget about a career in acting. In fact, a qualified engineer, he didn't want to have anything to do with acting. But then ultimately, he ended up being an actor and today he is not only a popular television actor, but also a very busy one. Within a span of three years, he has made a place for himself in the television industry.
"Life is very hectic," he says with an obvious feeling of satisfaction which also stems from the fact that he is getting to do some really good work on the boob tube. "I am shooting almost every day." In the past three years, Amit has done a variety of roles, mostly serious and intense with different shades, but now, for the first time, he is doing an outright comedy. That's Manjul Sinha's Jee Sahab.
Before Jee Sahab, Amit says he had done a 13-episode comedy serial called Parivaar which was telecast on the NEPC channel. But it went unnoticed and it wasn't also a good comedy serial. But he is absolutely happy with Jee Sahab which, he admits, is the first proper sitcom he is doing. And why shouldn't he be happy? After all, he is working with Manjul Sinha who has given us the popular sitcoms Yeh Jo Hai Zindagi and PA Sahab.
Jee Sahab is a romantic comedy revolving around an upper middle class working couple. The husband is an IPS officer and the wife is an IAS officer posted in the same district. Traditionally the two services have always been at loggerheads and that is where the comic situations and misunderstandings arise from. But at the end of every episode, it is the love that prevails. Amit says it is essentially a romantic comedy but it also has an undercurrent of male chauvinism because the wife is in a dominant position.
Since it is for the first time that he is doing a comedy serial, how is the experience for him? "I am really having a great time, more so because Manjul is such a fine director who takes out the best from you," he smiles. "It's quite a different experience working with him. I have done a lot of comedy in theatre but I must admit that comedy is a tough job because you have no pauses and moreover, you have to look genuine and natural."
Actually Manjul Sinha had selected Amit for another sitcom called TV Freestyle which Amit says is a hilarious sitcom revolving around four underdogs, an aspiring actress, a struggling actor, a spot boy and an assistant director who try to make a serial in their own way. Manjul shot four episodes of the sitcom but its telecast got delayed. Meanwhile Jee Sahab happened and impressed with Amit's acting, Manjul decided to cast him in Jee Sahab which, Amit says, has changed his image of a serious and intense actor. But what has happened to TV Freestyle? "It's been approved for the metro channel and we are waiting for a slot."
TV Freestyle according to Amit, should hit the airwaves in a few months. And moreover, he has two more comedies coming on air in the near future. These are Anant Mahadevan's Biwi O Biwi and Kapil Kapoor's comedy of errors Gustakhi Maaf. On the serious side, Amit has two serials coming on air. One is Asha Parekh's Kora Kagaz, a story of relationships in a family which is more of a women-oriented drama. The other is Ashok Pandit's Tere Mere Sapne, a middle class family saga. "That's quite a bit of variety in roles," adds Amit.
Currently Amit has three serials on air — Jee Sahab, Daraar and Zanjeerein. Both Zanjeerein and Daraar are serious family sagas of emotions, relationships, conflict and drama. But Amit is quite excited about Jee Sahab which he says is getting phenomenal response from viewers. "The TRP is rising and very soon Jee Sahab should be one of the top ten programmes on Zee," he predicts.
Amit began his career on television three years ago with the daily soap Shanti. What started as a small role turned into a major central character and out of 720 episodes, Amit featured in 600 episodes. "Whatever I am today it's because of Shanti," he confesses. "It brought me into the limelight and I started getting a lot of work."
Along with Shanti, he did a couple of pilots and then came his way a major role in Jaane Kahan Mera Jigar Gaya Ji where he played a superstar who is married, has an extra-marital affair as well as a torrid affair with a starlet. "It was a major role and I was noticed," he recounts. "Besides, it was also a bold role and it requied me to do lot of bold and passionate scenes."
Next followed O Maria in the role of a psychiatrist, and Kismat where he played an educated mafia don. Besides, he did a couple of episodes of Mano Ya Na Mano and everything was hunky-dory on the career front. Amit says 1995 was one of the best years in his career as he had three serials on air which gave a major boost to his career. Moreover, he also made his entry in Daraar which made him more happy because he got an opportunity to work with veteran director Lekh Tandon.
Lekh Tandon, says Amit, is a fantastic director and "I will always look forward to working with him." He says the same thing about Manjul Sinha. "In fact, after working with Lekhji and Manjul, I have become more confident as an actor," he confesses. Another director Amit is longing to work with in a major project is Ravi Rai who, Amit says, is one of the most sensitive directors.
Amit is an actor since his college days. While he was in the final years of his engineering degree, he started doing professional theatre with Feroz Khan and Iqbal Khwaja. Then he gave a serious thought to his career and he decided to quit acting. He joined a multi-national company and shifted to Delhi and for six months didn't do theatre. "But those six months were quite turbulent and disturbing as there was nothing to do in the evening," recalls Amit. "So I decided to do theatre again."
Along with his job, he did theatre for two years but he was not satisfied. His life changed when he joined Ebrahim Alkazi's theatre group. He quit his job and Alkazi put him on a stipend. As it was getting difficult for Amit to survive, Alkazi suggested he shift to Mumbai andwork in visual media. So finally he came to Mumbai and joined Blue Star as an executive and also started doing theatre with Iqbal Khwaja. But once Shanti came his way, he quit his job and decided to become a full time actor. And after that he didn't look back.
Though he is busy doing television serials, he hasn't quit theatre. He does at least one play in a year. But what about movies? "Yes, I want to work in films but I don't want to do small character roles because I have a certain image on television," he reasons. He has done a film called Pratishwar which is almost complete. He is also doing an NFDC film which he says is a psycho-thriller. "So I am open to films if I get good offers," he says.