Teachers expected to perform miracles

by Peeyush Agnihotri
Examination results is a yearly phenomenon which most of the teachers as well as the students love to hate. It might cease to be a nightmare for a student after some years, unless of course he or she takes up teaching as a career, year after year it continues to haunt the teachers.
While a student's evaluation is based on how he or she fares in exams, a teacher is evaluated by her class result.
Every year when results are declared, more often than not, urban private schools display better results as compared to the government rural ones.
And then, the government machinery awakes from its slumber and chugs into action. Higher-ups of government schools dispatch letters and memorandums asking teachers to explain why the result of their class was poor. A routine exercise, a departmental soul-searching. Teachers too cite various reasons, some inane and other pertinent.
The explanation, thus received, finds it's way into a file maintained at the head office and the exercise ends there. The same, then may or may not be used as a tool to punish the teacher.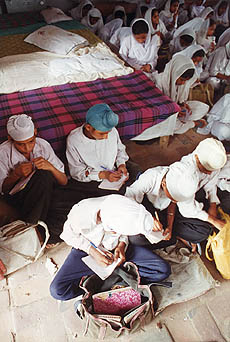 Can teachers really be blamed for a poor show? To some extent they can be held responsible in urban areas where the student population has literate parents and infrastructure is just a shade less than some private schools.
But asking teachers to perform miracles with poor infrastructure and with students who have illiterate or semi-illiterate parents, as is the case in rural settings, is asking for the moon.
Infrastructurally, to say the least, in some of the schools canopy of trees acts as classrooms and a cemented patch on wall as a blackboard.
To top it, there are students mostly from agrarian background, who have other chores to do when they get back home leaving them with little or no time to study.
Some of the schools have also introduced the idea of primary teaching for all and implement what they call zero-failure at lower level. Students, no matter how he or she performs in the final exams, are promoted to the next higher class. This goes on till class IV or so. Though it is a novel idea yet it has a cascading effect.
Ultimately, when poor performers face the onslaught of board finals, they expectantly flunk taking the class pass percentage and teacher's hard work into a tailspin.
A typical example of right hand not knowing what the left is doing, as on one hand, a laggard is promoted by decree while on the other, a teacher is asked to explain the poor performance.
Then teachers are transferred in mid-session. By the time the teacher is able to develop a rapport with the students, final exams trundle in.
A more elaborate exercise is the need of the hour. Higher-ups should brush their thinking caps and consider all parameters before they issue memos.
A different yardstick needs to be applied for rural and urban schools. That would save some paperwork and teachers too might get reprieve.