India, Pakistan fail to work out modalities
for talks
COLOMBO, July 30 (PTI, UNI) — India and Pakistan today failed to work out the modalities for resuming bilateral Foreign Secretary-level talks, grounded since last September, but decided to continue discussions tomorrow.The two foreign secretaries burnt the proverbial midnight oil yesterday.
Chandrika snubs Sharif
COLOMBO, July 30 — The warmth displayed by the two prime ministers during the bilateral meeting yesterday has not resulted in a discernible thawing of Indo-Pakistan relations.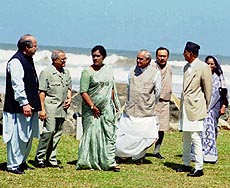 SAARC leaders pose for a photograph at Bentota on Thursday. — PTI

Goa issue rocks Parliament
NEW DELHI, July 30 — Adjournments and bedlam marked the day in Parliament today as the Congress supported by other Opposition parties stalled proceedings in both Houses. over what they described as the "unconstitutional" the dismissal of the Pratapsing Rane government in Goa.