No headway in talks
on Tulbul
NEW DELHI, Nov 5 — India and Pakistan agreed to continue discussions for finding an amicable solution to the Tulbul navigation project as no breakthrough could be achieved today with the two sides sticking to their respective positions during their talks.

2 Pak flying machines seized in Rajouri
Plot to blow up defence installations
JAMMU, Nov 5 — The police has foiled a Pakistan plan of blowing up VIP convoys and vital security and defence installations with the seizure of two mini-flying machines. The two flying machines were found in the Kalakot forest belt of Rajouri district during a search operation launched by the police.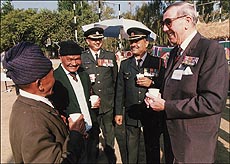 Lieut-Col Edward Gopsill and Havildar M. S. Thapa go down memory lane at a reunion of 1 Gorkha organised at Subathu, near Solan, on Thursday. — Tribune photo by Gautam Singh.


Reunion brings out youth in them

(Chandigarh page)
Rajasthan, Delhi poll: SAD not to contest
NEW DELHI, Nov 5 — In a strategic move, the Shiromani Akali Dal today decided not to contest the coming assembly elections in Delhi and Rajasthan and instead support its alliance partner, the BJP.