PM announces PIO card for overseas Indians
NEW DELHI, Nov 12 — Indians living abroad with alien passports are to be issued a Person of Indian Origin (PIO) card that would confer upon them a range of special benefits, including a visa-free regime and several other facilities in the economic, financial and educational fields, the Prime Minister, Mr Atal Behari Vajpayee, announced here today.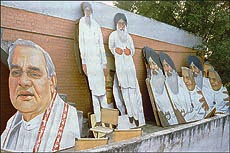 Cutouts of Prime Minister Atal Behari Vajapyee and Chief Minister Parkash Singh Badal being prepared for display at various vantage points in Bathinda. The Prime Minister will lay the foundation stone of an oil refinery near the city on Friday.