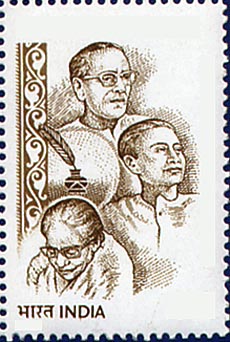 1. Identify the stamp.

2. In which field is the award given?

3. Who all are depicted on the stamp?

4. When was it issued?

5. In what denomination was it issued?

6. What is the full form of abbreviation BLK (4) in philately?

7. If a stamp bears the name Froyar, can you tell the name of country which has issued it?

8. What is the monetary unit of Austria?

Answers

1. Jnanpith Award winners.

2. Excellence in Indian literature in all 15 languages.

3. Bishnu Dey, Tarashankar Bandopadhyay and Ashapurna Devi.

4. 5.6.1998.

5. 200 paise.

6. Block of four.

7. Faroe Island.

8. 1 schilling of 100 grochen.