Re-telling X-Files in Hindi
FIRST came the craze for mythologicals, then viewers switched to crime thrillers followed by soaps. Now, it would seem the interest is shifting to tales of horror and suspense. The Zee Horror Show, Saturday Suspense, Aahat and X-Zone are all registering high TRP ratings, egging more and more producers to try their luck with serials revolving around blood 'n' gore themes.
But X-Zones is 'inspired' by The X-Files. Manoj Nautiyal's Lekin Woh Sach Tha on DD-1 makes no such pretensions. It is based on the metaphysical incidents where the dividing line between science and superstition gets blurred.
As in the original, here too a high profile investigative agency, 'Anti Superstition Wing' has been set up with the sole purpose of dealing with supernatural cases. And the conclusions are the same — the truth is out there — somewhere. Watch this serial if you missed the original one. And never mind the similarities!
Play it again, Suman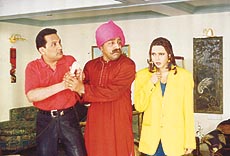 By now the line is clearly drawn between those who like Shekhar Suman and those who say enough is enough. And the latter segment of viewership is growing by leaps and bounds.
Much like Anu Kapoor, chances are that whenever you switch on the TV you'll see Suman's face popping out of some channel or the other. Believe it or not, he is starring in almost a dozen currently-on serials/shows and doing 15 more which are yet to be released. This must make him the busiest small screen star in the world.
If you don't believe it, here is the list — Dum Duma Dum (Zee TV), Kabhi Idhar Kabhi Udhar (Home TV), Reporter (Star Plus), Amar Prem (Zee TV), Geet Gata Chal (Zee TV), Dekh Bhai Dekh (Sony), Movers &Shakers (Sony), Made in India (DD-1), Ek Raja Ek Rani (Zee TV) and Andaz (Zee TV).
And now comes Wilayatee Babu on DD-1 where Suman plays a NRI who's come to India for the first time and gets a severe culture shock. Much like a large number of viewers who got a different kind of a shock when they saw him in another serial.
Close encounters with Laila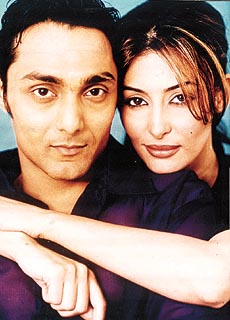 She may be out of Style but Laila Rouass sure has style as far as anchoring shows is concerned. The effervescent lady has come to terms with reality after her exit from BBC's Style. For sometime she drifted not sure where her career was headed. Till she found her metier as hostess in Channel V's Close Encounters.
The show, aired late night is gaining high viewership ratings and is drawing considerable teen fan-mail for Laila. "It's fun to do a show for teenagers, where they can let their hair down and talk their hearts out," says Laila.
And even a Style is a now a distant dream for Laila, the show has a changed look with Rahul Bose settling down with new co-anchor Namrata Barua, the woman who shot to fame as the stunner in the video of Bally Sagoo's album, Gabbar Remix.
So, with everything in place and both Style and Channel V's Close Encounters going great guns, it's smiles all the way. And no regrets as far as Laila is concerned.
Paradise re-visited
Doordarshan is commissioning a three-part series on the wildlife of Jammu and Kashmir, a zara huttke topic after all those jewellery, woodcraft, music, shikaras and culture-of-Kashmir-documentaries.
The series titled Enchanted Forests in Paradise is being produced and directed by Shubhadarshini Singh. It is about the grandeur of J&K's forests and how militancy in the valley has affected its wildlife.
Bofore terrorism gripped the state, Kashmir was a wonderland of wildlife which included the rare hangul or Kashmir stag, the Himalayan black and brown bears and a number of other endangered species.
So watch out for this fascinating series which will cover Dachigam, Kistawar and Hemis national parks — truly once the enchanted pocket of paradise in Kashmir.
A prince at 50
In England there's a section of people who feel that Prince Charles' standing has improved significantly over the last one year since the death of Princess Diana.
Around the time of his divorce from Diana, widespread doubts were expressed about his suitability to become king of the country.
Has his path to the throne now become easier even with public knowledge of his relationship with Camilla Parker Bowles? Will the Constitution allow him to re-marry?
These are the issues which BBC deals with in its Panorama series titled, Charles: A Life In Waiting. Though the programme was first aired on November 13, it is likely to be repeated several times. So if you are interested in the affairs of the British royalty, catch one of the repeats and go behid the colourful world of the heir to theBritish throne as he prepares to celebrate his fiftieth birthday.
— Mukesh Khosla