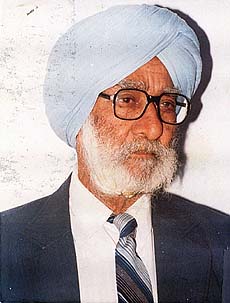 "Our endeavour should be
to make a difference"
SIX decades ago, on August 20, began noted playwright Harcharan Singh's tryst with Punjabi theatre. The play written by this Sahitya Akademi award winner was Kamla Kumari. It was also directed and enacted by him. He had, then, vowed to dedicate his life to the cause of theatre. His incisive plays portray varied facets of the socio-cultural milieu and Sikh history.
To date, Harcharan Singh has penned over 50 books. He is a student of Norah Richards, the Irish woman who ushered in many a new trend in Punjabi theatre. He, himself is, a trendsetter. Apart from introducing female characters (his own wife happened to be the first woman to appear on the Punjabi stage in 1941), Harcharan Singh staged the first play in Chandigarh. His significant contribution to literature as well as theatre is writing plays which encapsulate Sikh history. With over eight plays mirroring important milestones such as the birth of the Khalsa and martyrdom of Guru Tegh Bahadur, Sikh history has been Harcharan Singh's forte.
Despite the obsessive fascination with events of yesteryear, the writer does not wallow in the past. He often challenges the decadent norms of society. In Shobha Shakti, he questions the obscurantist Manusmriti which forces a woman to be subservient in all stages of life. In Kal, Aj Te Bhalak which earned him the prestigious Sahitya Akademi Award as well as the wrath of the then Chief Minister of Punjab, Giani Zail Singh, he exposes the politician-religion-corruption nexus.
Well into his eighties today, a trifle disenchanted with the rumblings in society, Harcharan Singh has, however, not called it a day. The quest for truth continues. The ink in his pen flows, as acrid as ever. In an interview with Nonika Singh the writer takes a nostalgic trip down memory lane. In his interview, he revealed his future plans and mused about his dreams and desires. Harcharan Singh might settle down for good in the USA to promote Punjabi theatre across the seven seas.
What triggered off your affair with theatre?
This is a question that I too have pondered over several times. How could a boy who grew up in a village with no cultural background whatsoever, whose family library boasted of just a Ramayana and Hatam tai be inexorably drawn towards theatre? The geographic location of our village, sandwiched between two kasbas where periodically Ram lila and Krishan lila were held, must have subconsciously influenced my thought-process. In all likelihood, my love for theatre owes its origin to the tradition of drama in Punjab.
How old do you think is this tradition?
It is, fallaciously, believed that Punjab has no heritage of drama. Throughout the long and chequered history of Punjab, dating back to the Harappan period, there is a definite continuity of folk dramatic traditions. In the beginning it might have been oral like our present-day popular mimicry of bhands called Naqlan. Song and drama is a way of life with Punjabis. Joie de vivre is the hallmark of every Punjabi who sings and dances at the slightest opportunity.
In pre-Partition days you learnt the craft from Norah Richards, who played a stellar role in promoting Punjabi theatre. What was the most valuable lesson that you learnt from her?
I imbibed an unswerving commitment to the cause of theatre even at the cost of personal discomfiture from her. Norah Richards constantly drilled into us the need to value priceless time because she felt that Indians fritter away time in trivial activities. Often she would quote Napolean who met his Waterloo, thanks to a lapse of three minutes.
Women seem to have inspired you greatly as your female characters are not just cardboard cutouts but women of substance. How did you develop this conviction?
(Smiles faintly). Well my detractors have often derided me for elevating women. But I strongly believe and say that women are not ornamental objects but possess rare courage. They alone can transform society. Just give them the Women's Reservation Bill and see them in action. Men are too scared to allow women to exercise power.
You have written several plays revolving around Sikh history and some like Hind di Chaadar have had a continuous run for five months. How relevant are these plays in the contemporary world?
For one, Sikh history does not belong to one particular community but is an integral part of our nation's cultural heritage. Sikh history is not a mere chronology of events but a complete revolution. The brave Gurus and tales of their heart-rending sacrifices, transcend time and space. Their heroic, humanitarian deeds, the fight against injustice is a lesson for the present and the coming generations too. Provided, they are willing to learn the lesson.
What is the role of theatre in society?
See, theatre is not a song-and drama routine meant to titillate and excite audiences. A powerful and direct medium, which gives the opportunity of a face-to-face interaction, the realism of theatre can initiate the catharatic process of change. If it fails to do so, it adversely reflects on the quality of theatre and the ability of those connected with it.
Are you happy with the cultural scene in Punjab today?
(Fumes) In Punjab at this moment, the government has no cultural policy so to say. The cultural bodies are languishing. Our rich elite would rather eat, drink and be merry rather than sponsor cultural activities.
At least theatre is happening in Punjab. Is it not?
Sure, but sporadic, individual efforts cannot sustain theatre for too long. I have travelled extensively the world over and theatre is always patronised. Only then can it be transformed into a force to reckon with.
Does this disenchantment mean that you will bid adieu to the world of histrionics?
Well, once a writer, always a writer. To tell you the truth I still nurture dreams. When my play Rani Jindan was staged at Broadway Theatre, New York, the overwhelming response of the audience set me thinking. I had promised myself that one day I shall write a play in English to be staged at Broadway. At present, I am working on Apollo.
What is this play about?
It is the story of a White family and their Black foster son. It delves into the hypocritical standards of American society. It deals with racial discrimination which is a universal phenomenon.
As a sensitive writer, what perturbs you the most?
Unlike many writers (he did not name anyone, but the inference is transparent if readers can read between the lines), sex and violence have never been my areas of interest. I have always moved alongwith Samay Daa Sach predictably the inspiration comes from life itself. No writer is an island unto himself, cut off from others. I am deeply disturbed by the all pervasive monster of corruption. My recent play, Jag Da Hanera tackles this hideous aspect of our society.
You have written books as well as plays. Is play writing different from, say, churning out a novel?
Very much. Today theatre is a specialised technique, a complete science in itself. While writing plays you have to keep in mind the parameters, the sensibilities of the performing art.
Have you been influenced by other playwrights?
Yes, I have been influencedby some, but I have not imitated them. Shakespeare, Shaw and to name a few, have influenced me. Perhaps their technique comes through in some of my plays but never the content.
Can you sum up the essence of life in a few lines?
Our mythology constantly reminds us of the fact that the human form is a rare blessing. It comes our way after innumerable births. So we must ensure that our creative potential doesn't go waste. After death who knows, but as long as we are around, our endeavour to make a difference should never come to an end.