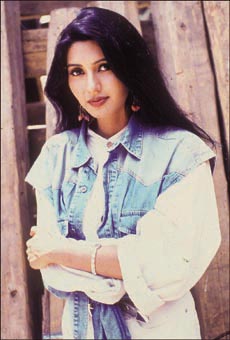 Deepti has a lot to smile about
SHE may not have clocked a major hit in Bollywood but stunning model-turned-actress Deepti Bhatnagar is a rage in the south where she had the lead role in such blockbusters as Pelli Sandadi and Auto Driver in which she acted as Miss India.
Despite her Telugu successes, Deepti pines for recognition in Bollywood. A dozen-odd megabuck assignments in southern films still don't compensate for one good Hindi hit, she feels.
But now the oomph girl may not be far from her goal, thanks to the small screen. Deepti has recently replaced Ruby Bhatia as the tough cop in Yeh Hai Raaz on Star Plus.
"I really love doing this role," says Deepti and adds, "In most of my films I play a glamorous role.
But in Yeh Hai Raaz it's a new challenge as I have to play a tough cop who doesn't smile much. Initially this was difficult because I enjoy smiling. However, if a role demands it, I better look and talk tough."
In any case with this new role and her ever-increasing demand as a high profile model, Deepti can do all the smiling in private life.
The flip side of stardom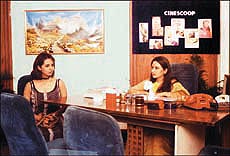 It's an oft-repeated tale of people being bitten by the movie bug. But Neeyat, which started recently on Zee, promises to be different.
The serial is the story of two women — mother and daughter — who land in Mumbai as film actresses under different circumstances and with different purposes in mind.
The plot encompasses the women's burning ambitions, their clash of egos, the hot scandals, the hypocrisy and manipulations in the film world which often lead to hurt and frustrations of those who are lured into the arclights.
One of Neeyat's strong points is its cast comprising Neena Gupta, Shahbaz Khan, Pankaj Dheer and Anju Mahendroo. There are guest appearances by Jeetendra, Dara Singh and others.
Maharana Pratap discovered
The search seems over. And Gufi Paintal's Maharana Pratap — The Pride of India has reportedly been identified. The serial shot mostly on location in Bikaner, Udaipur, Chattisgarh, Kumbalgarh and Jaipur, had not introduced the central character in its first run. Simply because it covers eight decades of the rulers of Mewar and Rajputana.
The serial which went on air on the national network in January 1998 coincides with the 400th death anniversary of the great warrior, Maharana Pratap.
All the time a hectic search was on to identify the appropriate star who could portray the great Rajput leader. And the surprising choice is said to have fallen on Vinod Khanna.
Surprising, because the actor-turned-MP is past 50 and may not be in his physical prime to do justice to the role.
But director Gufi Paintal's logic is simple — he wanted a big star. Since most of the leading lights of television he considered were too over-exposed to fit the role and no big film star wanted to switch over to the small screen, so Vinod Khanna's acceptance of the role was just what the doctor ordered.
A good actor in his time and now a part of the ruling party. Could there be a headier combination?
On a high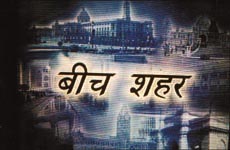 It was a simple brief. A light feature on tantriks who sit outside Delhi's famous Hanuman Mandir. But somewhere at the back of producer Nalin Mehta's mind was the mandir's nefarious drug connection. And his hunch was proved right.
Mehta came across a sadhu with dishevelled hair, glazed eyes and dirty clothes. A few rupees passed hands and the self-styled Sadhu agreed to take the unit on a guided tour of the local haunts of all drug addicts — the biggest of all being the 'doping' pavement just 300 yards from the all-important Connaught Place police station. "It seems the police in the area was aware of the activity but was either reluctant to take action or was a party to it," says Nalin Mehta.
And from there started a virtual tour of Delhi.
The information about the supply routes, the rates, the agents — in short, the works, "It seems the police in the area was aware of what was happening but was either reluctant to take action or was a party to it," says Mehta.
The result: A stunning programme — Beech shahar — on India TV. Don't miss this gem of a show which, for the umpteenth time, highlights the much reported connection between the cops and the drug lords.
Discovering young talent
It was a hall full of young whiz kids. The nine-city final of the Discovery Channel quiz in which 1,500 students from 55 schools participated was held at Delhi's IIT auditorium.
Quiz master Derek O'Brien kept the students and audience ticking all through with an endless volley of questions. All through it was a close competition and the winning teams were decided in a nail-biting finish.
Delhi Public School, Noida and Mount St Mary's Delhi were the jubiliant winners respectively. "Our constant endeavour has been to arouse young people's natural quest for knowledge," said Kiran Karnik, managing director of Discovery India. "This quiz offers us an opportunity to make learning an entertaining process."
Indeed, the spirited response of young people and their knowledge of the environment showcased the social message which Discovery drives home with each of its programmes.
Marketing strategy
If Coke can use VJ Maria Goretti for its ad promotion (Kya Bolti Tu), can Pepsi be far behind? The generation next drink has signed MTV VJ Cyrus Broacha to promote its 'Cool Gear' whereby teenagers can exchange crown caps supplemented by money for accessories like, rucksacks, bubble watches, pencil pouches, scales, sharpeners and water bottles.
The two cola giants have found a booming market of enthusiastic young people hooked to the MTV and Channel V culture to promote not just their soft drinks but also accessories.
The marketing logic is a winner all the way. First you buy a Pepsi or a Coke, save its crowns and then put in more money to buy the accessories which are endorsed by VJs of music channels. Could there be a cosier marketing arrangement?
— Mukesh Khosla