Troops foil attack on Siachen post
Six intruders shot dead
SRINAGAR, Oct 27 — At least six Pakistani soldiers were killed when Indian troops foiled their attempt, second within in a week, to capture an Indian forward post in the Siachen area today.

40 feared drowned in Assam
GUWAHATI, Oct 27 — At least 40 persons, mostly children, were feared drowned when an over- crowded mechanised country boat capsized after colliding with another mid-stream in the Brahmaputra river today, the police said.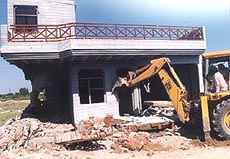 A house nearing completion built in violation of the periphery Act being demolished by the Administration at Raipur Kalan in Chandigarh on Tuesday. Tribune photo by Manoj Mahajan

Axe falls on 49 illegal houses
CHANDIGARH, Oct 27 — Anti-encroachment staff of the Chandigarh Administration pulled down 49 houses in an illegal colony which had come up in violation of the Periphery Control Act in Raipur Kalan village today.