Laloo, Mishra denied bail
PATNA, Oct 30 — Former Bihar Chief Ministers Laloo Prasad Yadav and Jagannath Mishra and five others, including three senior politicians, were today denied regular bail in a conspiracy angle case of the fodder scam and remanded in judicial custody till November 13 by a designated CBI court here.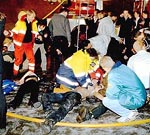 60 killed in fire at disco
GOTEBORG, Sweden, Oct 30 — A fire started by an explosion raced through an upstairs discotheque jammed with hundreds of teenagers attending a Halloween dance early today in Sweden's second largest city, killing at least 60 persons and injuring about 190 others, many of them seriously.
No papers filed in Delhi
NEW DELHI, Oct 30 — The process of filing nominations for the November 25 Assembly poll began in Delhi, Rajasthan, Madhya Pradesh and Mizoram with the issue of notification today in the respective states even as the major political parties were busy finalising their list of candidates.
Forward Bloc chief dies in accident
CHENNAI, Oct 30 — Mr Ayyanambalam, president of the All-India Forward Bloc, and two others were killed on the spot when their car collided with a lorry in Madurai city in the early hours today.