Discretionary quota case
HC orders auction of petrol pumps
NEW DELHI, Sept 13 — The Delhi High Court has rejected the demand of four major petroleum companies for selection of dealers and distributors through oil selection boards for reallocation of the cancelled petrol pumps, standard kerosene outlets and LPG dealerships, and has ordered a public auction.

Haryana minister sacked
CHANDIGARH, Sept 13 —Haryana Governor Mahabir Prasad tonight dismissed PWD Minister Dharamvir Yadav from the Council of Ministers on the recommendation of Chief Minister Bansi Lal.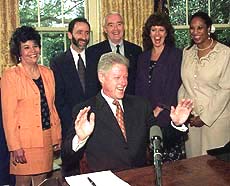 President Clinton has a laugh after finishing his weekly radio address in the Oval Office on Saturday. President Clinton was joined by National Drug Control Policy Director Barry McCaffrey (behind Clinton) and others. AP/PTI

Clinton should stay: Gore
WASHINGTON, Sept 13 — The US Vice-President Mr Al Gore has said Mr Bill Clinton has done "wrong", but does not deserve to be ousted from office.