Haryana staff strike fizzles out
CHANDIGARH, Sept 16 — Due to the massive police bandobast and the invoking of ESMA by the Haryana Government, the one-day token strike by state employees today did not have much impact on the normal life in the state. Barring certain pockets, the strike failed to evoke any appreciable response.

Support welcome from
all: Vajpayee
CHENNAI, Sept 16 — The Prime Minister, Mr Atal Behari Vajpayee, today appeared to have sent signals for new equations, including that with the DMK, when he made it clear that the BJP-led coalition was willing to accept support from any quarter.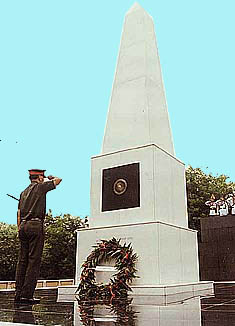 Lieut-Gen H. B. Kala, GOC-in-C, Western Command, salutes at the war memorial, "Vir Smriti," in Chandimandir on the occasion of the 51st raising day of the command on Wednesday. — A Tribune photo by Gautam Singh.