Rabri inducts 9
more ministers
PATNA, Sept 17 — On a day of fast-paced developments, the JMM (S) withdrew support to Bihar's Rabri Devi government which retaliated by sacking its leaders from the interim Autonomous Council for Jharkhand and expanded the ministry to strengthen its support base.

Advani non-committal about Rabri's sack
HYDERABAD, Sep 17 — Union Home Minister L.K. Advani today remained non-committal about the growing demand for the dismissal of the RJD government in Bihar, saying "we will do whatever is constitutionally correct..."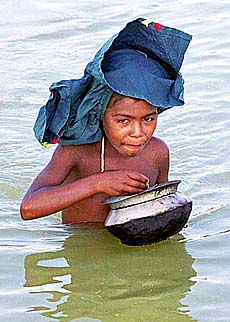 DHAKA: Tofail Ahmed has food while wading through waist-deep water following floods in Dhaka, Bangladesh, on Wednesday. — AP/PTI