India, France name envoys
From Hari Jaisingh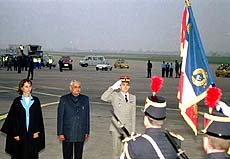 PARIS, Sept 29 — India and France today decided to designate special envoys for initiation of strategic dialogue between the two countries which will have special focus on political and economic ties and cooperation in civilian nuclear energy.
Mr Harrera will be the special envoy for France while Mr Brajesh Mishra, Principal Secretary to the Prime Minister, will represent India.
This decision was taken during a meeting the Prime Minister, Mr Atal Behari Vajpayee, had with the French President, Mr Jacques Chirac, here today.
France reiterated its belief that sanctions were not the best method of tackling the post-Pokhran situation.
Earlier, Mr Vajpayee held detailed discussions with the French President. Mr Chirac reiterated the desire to have better political and economic cooperation, with Mr Vajpayee reciprocating similar sentiments.
The talks between India and France were "very substantive", according to an Indian spokesman. It is hoped that these talks will lead to much closer relations between the two countries.
During the meeting, the French President also discussed the question of Indo-Pakistani relations, Afghanistan and terrorism.
The Afghanistan question came in for discussion with France expressing concern over the situation, its impact over neighbours and peace in Asia and South Asia.
France also welcomed the resumption of dialogue between India and Pakistan.
President Chirac, who hosted lunch in honour of Mr Vajpayee at Elysee Palace, is on record having said that he wants to develop "an ambitious, bold and confident partnership" with India, who he ungrudgingly accepts as "a global power".
Unlike the USA and other European countries, Paris has shown considerable understanding of India's nuclear stance. Even on the Kashmir issue, France has gone along the Indian view that the matter should be tackled bilaterally without outside intervention.
On the question of combating terrorism, the two countries exchange notes and cooperate extensively. This is mainly because France itself is worried about the spread of Islamic fundamentalism here as well as in Europe.
Consistency is, of course, not part of French virtues. So, the Indo-French connection has often remained an intermittent affair. This is how the French are known to conduct their relationship.
During the Indira Gandhi regime, Indo-French ties reached their peak. She spoke French as any native and that was enough to recommend anyone to the French.
In fact, Paris then provided not only the fighter plane, Mirage, but also credit and many other things. But the French later gave the Mirage to Pakistan as well. This way they killed an "incipient love affair". For Mr Vajpayee, the visit is basically exploratory in nature. He understands the importance of the French connection and the positive role the leaders here can play to protect Indian interests.
As it is, France provides the link with the European community. It also acts as a foil against America's anti-India postures which have become more pronounced after the Pokhran blasts. France does not fully endorse America's sanctions regime and has not hesitated to cooperate with India even in critical areas of nuclear energy, space and defence. The French Defence Minister, Mr Alain Richard, is scheduled to meet Mr Vajpayee tomorrow. The Indian Prime Minister's dialogue with his French counterpart, Mr Lionel Jospin, and Mr Chirac has been wideranging.
Interestingly, during his visit to India as the chief guest at the Republic Day celebrations during the 50th anniversary of our Independence, President Chirac regretted that there was "an image deficit for France in India".
As I see, the French connection has often suffered for want of consistent cultivation. This blame must be shared by both countries. France has been preoccupied with Africa, more than with Asia. The French government has now made it clear that "Asia will be one of the major frontiers of foreign policy", with India as one of the four pillars in the region, the remaining three being China, Japan and ASEAN. India is also listed as being among the eight major global powers, that is, the P-5 plus Germany, Japan and India. This sets the right tempo for increased Indo-French cooperation.
Besides increased trade and close economic cooperation, India badly requires technology upgradation. At present, there are a number of Indo-French collaborations by way of technology transfers and joint ventures. Nearly 120 French companies have been established in India and a few hundred more firms trade with the Indian market through local agents.
The French share in foreign collaboration, however, continues to be small. In foreign investment, its share is a mere 5 per cent. This is not because French technology is not advanced or that credit facilities are not available. In fact, France has been collaborating in important areas like aluminium, fertiliser, oil exploration, aeronautics, the HBJ pipeline and other. And it has offered assistance in frontier areas like telecommunications, nuclear energy and bio-technology.
Be that as it may, after Mr Chirac's India visit early this year, Mr Vajpayee's trip is seen here as part of efforts to keep up the momentum in bilateral ties and also try to put life into the Indo-French connection.
The French President, Mr Chirac, has the reputation of being among the "most seductive" of French politicians. He has the ability to "turn even the briefest of encounters into a moment of intense charm".
Interestingly, the love for poetry is a common factor between Mr Chirac and Mr Vajpayee. Socialist writer once remarked, "he (the French President) would even read poetry behind a copy of Playboy". Poetry is indeed seen as a new factor in bringing about an instant rapport between Mr Chirac and Mr Vajpayee.