Capturing moments with deftness
SHE'S emerging as the real mover and shaker as far as sensitive serials go. Fresh from the phenomenal success of Saans, Neena Gupta brings to the viewers yet another absorbing serial, Pal Chhin every Friday on Star Plus.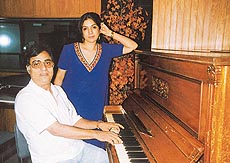 If Saans deals with the mind of a woman, Pal Chhin is all about the male psyche. The script questions the relevance of age-old axioms in the man's world. Does good triumph over evil? Not really, says the serial because man's desires have overtaken all norms of goodness.
It's the story of Manohar Singh, the patriarch of the Thakur family, his two sons and his brother. The old man upholds values like family honour and personal integrity while his sons have a more 'modern' outlook. For them means are not important, it is the end which matters. Most men live from moment to moment.
The serial is about the conflict of the old and new. How the turn-of-the-century pulls and pressures have eroded old values. A hark back at the times when the world was an innocent place to live in.
If you've enjoyed Saans you are sure to like Pal Chhin which, besides having been deftly directed by Neena Gupta, has lyrics by Gulzar and lilting music by Jagjit Singh. A winner all the way.
Old subject, fresh treatment
For almost four decades now he's been one of Hindi cinema's most respected directors. Back in the eighties when he made his foray into TV with powerful social serials like Rajni and Kakkaji Kahen, his class towered above all other small screen directors.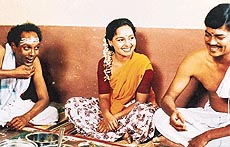 Now Basu Chatterjee is ready with yet another excellent serial — Ullanghan. The story revolves around a royal family of Karnataka and a scheduled caste family whose respective son and daughter go to study in the same college in Mysore.
Soon enough, love is in the air and the two young people decide to challenge the social system and get married. Will the caste-ridden society allow this union? The answer can be found in Ullanghan on the national network.
Though the story may be as old as the hills, Basu Chatterjee touches a raw nerve by making it relevant to present times. Which all goes to prove how sophisticated direction can make even a dead subject come to life.
Wonder years
It's difficult to pinpoint why a serial like Just Mohabbat should climb so rapidly up the charts. Run-of-the-mill story, average performances and exaggerated characterisation. But the truth is that it is one of the most popular shows on Sony. And it's secret of success perhaps lies in the fact that young viewers are relating to it.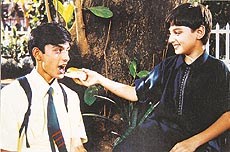 Racing towards its century, Just Mohabbat is about the lighter side of growing up. The story revolves around young Jai, his family, friends and acquaintances. The serial started with a 10-year-old Jai. Now he's 17 and he still remains inquisitive, curious and impish.
At 10 he had a king-sized crush on his moral science teacher... at 17 he finds his first love. At 10 he was reprimanded by his parents for getting expelled from school... at 17 the whole family smokes together. Jai at 10 was energetic, bright, mischievous... at 17, he is wiser and sensitive beyond his years, something that always differentiates him from his peers.
At 17 has the lovable Jai changed or is he the same he was at 10? Does he have the same sparkle in his eyes? Check out Nikhil Vatsal as the 17-year-old Jai. Chances are he will have the same mind-scrambling effect on young viewers as the 10-year-old Jai.
Healing the mind
Why does Rajan keep washing his hands more than a hundred times in a single day? Why does Sujata, a young mother of a healthy newborn keep crying? How could a 40 year old father not remember his own child's name? Why did 14 year old Ankur try to kill his classmate over a trivial issue?
Diary Ek Psychiatrist Ki a new series on Strar Plus takes you on a journey which unravels the mysteries of the human mind. Mental health continues to be a taboo subject in our cultural ethos. "It is only the weak who succumb, the rest carry on" is what we are made be believe. But this is myth. The human mind can be as frail or as strong as we nurture it to be.
The series is presented by Dr. Sanjay Chugh, a well known psychiatrist who discusses issues such as depression, sexual problems, drug abuse, schizophrenia, phobias, domestic violence, workaholism. While some of the problems assume serious proportions, other like workaholism and compulsive neurosis are something we encounter in our day to day lives.
Doctor's mail is an extremely interesting, interactive segment of this series in which the doctor answers some very personal and widely prevalent queries ranging from schizophrenia to post natal blues. Here, viewers are invited to send in their queries.
An absorbing series which should benefit not just those afflicted with psychosomatic problems but the normal person as well.
Pradeep hits it "big"
Lucianno Pavorotti and the late Ustad Nusrat Fateh Ali Khan were known for their talent and not size. Pradeep Roy weighing a self confessed 180 kg too is on that path of making a 'huge' success with his singing prowess.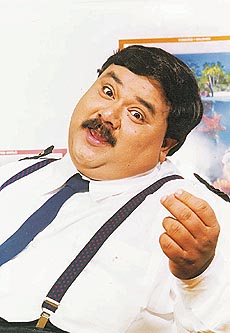 A chartered accountant by profession and married to music, Pradeep has a tremendous yen for the camera and his video of the title track from his debut pop album Wah Bhai Wah is a delight to watch. He has the ability to sing with ease and dexterity blending the powerful and the soft effortlessly.
In Wah Bhai Wah Pradeep presents eastern Indian music in pop format. The title track is about a mystery woman Radhika in Pradeep's office whom he has a crush on, literally. The video is a trendsetter. Good choreography and an excellent performances.
While Unka Aana and Goriye are simple yet hummable tracks, Shikayat is a melodious rendition with some intricate flute pieces as interludes. Yun Hi, is a version of the evergreen hit Can't Help Falling in Love. Yaara is an adaptation of an Assamese/Bengali folk tune. Uptempo and pacy, the sounds of the khol and iktara are blended to create the killer tracks.
Classic viewing
There's some real action on AXN TV. Towards the end of this month, the channel is airing the all-time classic Bridge on the River Kwai.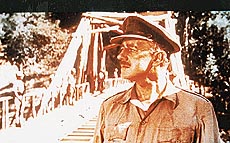 One of the most famous wartime films, it won seven Oscars and stands out as one of the greatest and most powerful films ever made about war and its degenerative effects on the minds of men.
Filled with high-powered action sequences and intense psychological torture, the film stars Oscar-winning Alec Guinness, William Holden and Jack Hawkins.
Wathc out for the date and don't miss this great movie.
—Mukesh Khosla