Religion manifest in a garden
By Suverchala Kashyap
ONE almost misses a board proclaiming, 'Patanjali Vriksh Mandir,' on the Ahmedabad-Vadodara highway. For those who know of it, no directions are required. It is the faith and philosophy that guides them there. For the curious, too, the going is not tough. About 8 km off the highway and 4 km from Vadodara, a dusty-bumpy ride gets one to Ajod, a little green world in itself.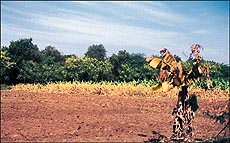 The first thought that comes to mind on entering the garden is, what on earth could Pandurang Shastri Athavale, the head of the Swadhyaya Movement, have to do with a huge garden? Loads, one soon realises after traversing 45 bighas of land studded with nearly 2,000 fruit-laden trees, interspersed with shrubs and herbs that grow, as if naturally. A separate chunk of 15 bighas has, however, been set aside for the purpose of growing mainly medicinal plants, most of which find use in ayurveda and homoeopathy.
The beauty of the place is not in the plants themselves, but in the way they are grown and the whole philosophy that has nurtured this experiment. Started nearly 13 years ago,this garden is akin to a temple, in the sense that each and every part of it is sacred and revered by all those who visit it. It belongs to no one in particular and yet belongs to everyone. There are nearly 20 such other gardens in Gujarat and Maharashtra.
The Swadhyaya Movement, which literally means the study of the self, has been instrumental in introducing a realistic social change in India's rural communities.
"Shastriji, also fondly called Dada by his followers, believes that selfless service with no expectation of return, is the mantra that can bring and keep humanity together," informed Karsanbhai Vaghela, a retired employee of Gujarat State Fertiliser Corporation Ltd (GSFC), who has been visiting this unique upvan since its inception. "Apart from making me feel at peace with myself, it gives me an opportunity to be one with nature, and also meet a number of people from different fields," he explains.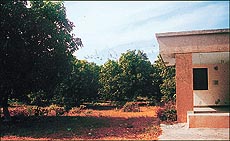 Another motto that governs practitioners of this movement is, 'we are one. Hence there is absolutely no differentiation on the basis of caste, creed, colour or class. Here everyone is equal and the aim is to bring about a positive change in people, whereby they themselves feel the urge to do something constructive, said another tottering old man, who comes all the way from Champaner, about 35 km away. "For us, this is religion, not self-pity exercises, indulged in by many at the so-called bhajan sessions at temples. Here it is a culmination of devotion and 'work is worship' is clearly manifest in this garden," added Karsanbhai.
The garden uses totally scientific knowhow, from vermiculture to drip irrigation and the sprinkling system. Nothing is wasted and little is bought. Sold, yes, the produce, fruit etc. but at a nominal price to nearby villages. Barter system is also practised, that is instead of selling the wild grass to the villagers, for whom it is sometimes even difficult to dole out a nominal Rs 60 a month. Cowdung is taken from them in exchange of the green fodder initially, a day-to-day system was followed but this system required a lot of planning and the maintenance of accounts. So it was done away with for the present barter sytem.
The people frequenting this place, other than curious visitors, are mainly Swadhyayis, and are categorised into two distinct categories, the 'van-prasthis', or retired section and the younger generation. By and large each of the trees here has been planted by a particular individual and as far as possible this person continues looking after it.
Every month on the second 'Purina,' all the members of the movement meet at a pre-decided venue and chalk out the details of the several duties to be undertaken by them, the garden being one of them. Each individual stays at the garden for four days, does his bit and so the chain goes on.
And there is a lot to do. From tilling the land, grafting the trees, pruning, collecting garden waste to attending to the two varieties of earthworm utilised here for vermiculture. One, the indigenous variety that can turn the soil topsy-turvey to a depth of nearly 30 feet, and the other, an imported variety, which is barely an inch long and burrows to only about three feet, an extremely sensitive variety. The worm travels up and down about 14 times in 24 hours and in 45 days the entire process of vermiculture is completed, resulting in soft light, porous soil.
Around every tree a three-to-four feet deep pit is dug which is filled with old leaves, garden waste and a few worms. Above each of these pits the drip irrigation system is opened, thus keeping the soil in these pits moist. This creates a situation where the worms literally make mince meat of all the waste, but desist from ingesting iron, glass or polythene.
A system of 'each one teach one' also comes into play here as not everyone who comes here knows much about floriculture or forestry, but soon enough they all learn, and it doesn't stop just there. For once they get back home, they utilise the knowledge gained and also impart it to others willing to learn. For instance in the case of grafting there are certain mango trees that have the grafts of at least four or five varieties on the main plant, resulting in different types of mangoes. This was not known to a number of villagers but as the garden also serves as an experimental laboratory, everyone gets an opportunity to learn at ease.
The highlight of this experiment is that not a single drop of pesticide nor a grain of fertiliser has been used here. Yet it is not as if pests keep away anyway. "Initially none of the villagers living in the vicinity believed that cultivation of any kind was possible without the use of chemical fertilisers or pesticides, but once they visited this place and saw the practical side of it, they not only believed but experimented in thei own farms too," explained another regular at the garden. In place of chemical fertilisers natural derivatives, from karvo limdo (bitter neem), garlic and cow's urine, are made and sprinkled on the plant keeping all the pests at bay, he elaborated.
Dada, however, is of the belief that his is not entirely a money making proposition but a system by which man comes closer to man and to nature, where he learns to spare time from the daily routine and utilise it constructively. Here the theme is building relationships. Dada believes that it is imported to bring about a vaicharic kranti, or a revolution in thinking. This becomes more interesting in the light of the fact that this is further based on bhakti or devotion and the transformation of self and society.
"The purpose is primarily to take elevating thoughts to the masses, for these are the people who are completely ignored by all religious leaders as well as intellectuals. He talks of a coming together of people to rectify a system, for long plagued by malpractices. Faith is a primary driving force in the lives of ordinary human beings, but what is prevalent today in the name of religion, is more of a farce perpetrating unnecessary fundamentalism. Hence the common man requires a driving force which is more pragmatic and Dada seems to have found a way out."
This is also seen here in the garden at Ajod, where every now and then the 'Abhishek' ceremony is performed on the trees. Each tree is given a particular name, more often than not wih a religious connotation. Thereafter, it is almost looked upon as an individual, that also goes through different stages of development like a child. And all its needs are looked after with utmost care and love.
The swadhyayis come here either with their own lunch boxes or raw material and cook a meal at the makeshift shelters at the garden. All the work is done with extreme devotion, as if the garden belongs to each one of these people, young or old, rich or poor. Even the cleaning of the vegetables and fruits etc is done together. Fuelwood is collected and stacked neatly and is sometimes even utilised in the garden itself.
This is in some way reminiscent of the sacred groves of yore which till quite some time ago were fairly popular and were basically a boon for the environment, but changing lifestyles have also drastically affected their very existence and survival.