Sense & cinema
By Abhilaksh Likhi
ONE way in which critics have often lamented the hegemony of popular Indian cinema is to search for alternatives in the name of a higher calling to the art of motion picture in India. Such attempts variously called the new wave, the serious cinema, the art cinema or simply parallel cinema, surfaced in the late sixties with international recognition of Satyajit Ray's Pather Panchali. During this period, such cinema supposedly tried to establish a new tradition of film-making in India, one in which 'authenticity' and 'social realism' were the key terms.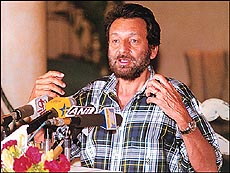 Rejecting the so-called ingredients of popular cinema-like the stars, the melodramatic hype, the song sequences and perhaps the simplicity with which themes were treated, many young film-makers struggled to find a new cinematic grammar to assert their strength. Film-makers like Mrinal Sen, Mani Kaul, M.S. Satyu, Ritvik Ghatak and Shyam Benegal evolved a more conscious and articulate cinema that attracted fewer audiences but nonetheless became an integral part of the collective cinematic psyche of the country.
However, around the mid 80s the situation changed. The possibility of a synthesis between a more contemporary aesthetic sensibility and the form of popular Indian cinema came to engage the mind of several parallel film-makers. There was indeed a growing realisation about the strength of the form of popular Indian cinema which had survived for over eight decades and had deep roots in our traditional theatrical forms, both folk and classical. The use of a strong dramatic narrative coupled with expressionistic use of music, began to be accepted as an effective leitmotif. The possibility thus, of successfully expanding the audience net with realistic yet contemporary screen stories was more aggressively pursued.
Interestingly, mainstream films like Arth, Saaransh and Ankush, considerably moulded the so-called serious cinema's varied nuances of character motivation, plot delineation, lighting and editing to enable creation of an apt cinematic environment to entertain, engage as well as inform the audience. In new wave films like Aakrosh, Kalyug, Junoon, and Dhristi one could decipher a conscious effort to exploit the potential of a charged visual dramaturgy. This also lead to the evolution of a cinematic imagery wherein a realistic narrative used detours and stories to generate the desired emotional effect.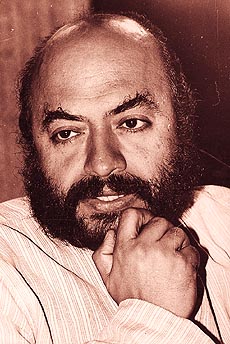 The core conviction however continued to be that of a thinking film-maker. But in the changed scenario, a convincing interplay of characters drawn from contemporary situations, required an intuitive visual style that portrayed the psychology and moorings of these characters. More than perhaps, a staunch and overbearing ideological stance, so typical to parallel cinema of the 70s. Hence, films like Mirch Masala, Ardh Satya and lately Fire have skilfully used dramatic tension to probe diverse issues through mechanisms of viewer identification and vicarious fantasy. The use of song sequences, however, is an option that has been exploited by few film-makers like Ketan Mehta and Prakash Jha basically to ensure a deeper involvement of the audience with their thematic and emotional concerns. Though, films like Maya Memsab and Mrityudand substantiate more strongly their efforts to adopt a form that would appeal to a wider age group of viewers. What has been, however, foremost in the achievement of this new sensibility is the above film makers' newfound commitment to the power and potential of popular cinema's form as an effective communicator of human experiences and social ideas.
The effort, at the same time has also been to evolve a cinematic language of realism uniquely responsive to Indian needs. The new wave cinema always believed films to be a truer reflection of social reality, an instrument of social critique and a site of formal experimentation-difference in style, tone and texture notwithstanding. But within the parameters of social concern and artistic genius so evident in films like Sara Akash, Uski Roti and Bhuvon Shome, new wave film- makers failed miserably to articulate a larger national experience that mainstream cinema could indeed fathom with elan.
Issues ranging from the paralysis of the political system to the conflicts of caste and class were depicted but purely from an individual film-makers' personal points of view. The solution, of course, is not at all to introduce facile happy endings, as mainstream cinema is usually accused of doing, but to consider the possibilities of using cinema and its technology to increase its reach and accessibility. Interestingly, the success of many mainstream films like Ghayal, Roja Damini and Bombay could also be attributed to a personalised treatment meted to the screen stories. But more than anything else they have proved beyond doubt the immense power of popular cinemas to act as a forum to debate critical issues concerning us and society, within of course, a broader perspective.
Thus the vital question that the new cinematic sensibility poses is whether cinema is to be a dialogue with the audience — a sharing of experience with the viewers or just a one-way communication? The context perhaps involves a constant re-evaluation of a film- makers belief, convictions, ideologies, aesthetics and film craft. Otherwise how could one explain Shekhar Kapoor deciding to direct a starkly realistic Bandit Queen after an out and out commercial entertainer like Mr India; or a distinguished film-maker like Govind Nihalini attempting to direct his first commercial venture - Takshak. At the heart of such a sensibility is essentially a deep humanism that infuses the film's theme, narrative, style and technique with a remarkable and universal ingenuity that appeals tremendously to the audience. The stupendous success of films like, Hyderabad Blues and Bombay Boys also points towards the evolution of a new aesthetic imperative where art and commerce blend effortlessly to create space for a cinema that is self-sustaining.
Within the form of popular cinema, whether it is experimenting with the idea of make-believe or injecting raw believability into the narrative structure, it is ultimately the overwhelming audience response that provides the crucial yardstick to fathom the film-makers communicative effect. Today's popular films may vastly differ in their visual style, narrative handling, characterisation, depth and mood but the cinematic grammar they have attempted to evolve will alone determine the creative expansion of a popular medium like cinema. Recent releases like Sarfarosh and Satya amply demonstrate the mainstream film-makers' resilience to impart realism to screen stories of contemporary relevance. Both films have succeeded as action thrillers despite the fact that they depict deglamourised heroes. It is however pertinent to mention that both films have also created a fresh niche for character artists — a goal that parallel cinema could never achieve even in its heydays.
The search for a new sensibility through creative alternatives stands to strengthen popular cinema so long as Indian audience respond enthusiastically to a wide variety of screen stories ranging from complexity of the urban identity, cross border terrorism to perhaps politics of the underworld. Such a cinema would be shorn of unnecessary ideological underpinnings and tackle issues with objectivity that is essentially viewer-centric. It is through such cinema that reality, intellect and film craft would metamorphosise into a cinematic language that would engage itself not only with the audience but with contemporary times too.