End of a controversial yet
effervescent career
By Ravi Dhaliwal
FOR a man whose 16-year-long stint in international cricket has been likened to Winston Churchill's immortal words: 'A riddle wrapped in an enigma', Navjot Sidhu's decision to retire from the game was a very emotional moment for him as well as his fans. For when he did so, he parted from a sport, which had over the years, transformed him from an ordinary individual to a cricketing icon.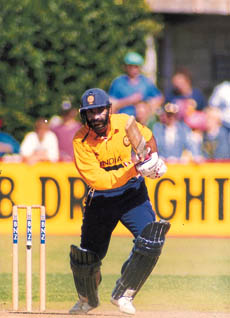 Though his retirement may have been poorly timed and unduly delayed, yet with Sidhu's biding adieu from the game, it can be said without an iota of doubt, that a golden phase has passed into cricketing history. The career of this gutsy sardar has always been a bit like a yo-yo --- swinging from one extreme to another. A high for him has at times meant a knock on the door that announces a new low. Ever since he made his Test debut in 1983 at Ahmedabad against the mighty Clive Lloyd-led West Indians to the day he played his last Test match in late 1998 against the Kiwis at Wellington, it will not be an exaggeration to state that Sidhu's career has evolved in fits and starts — sometimes like an old, cranky (but reliable and hardy) Ambassador which at times refused to start and sometimes like a Formula 1 Ferrari, always raring to go. Otherwise, how does one explain the fact that Sidhu, in a long span of 16 years, has played just 51 Tests?
A question which will always rankle cricketing connoisseurs around the world is why, with all the experience, vision and wisdom that he had, Sidhu could not time his retirement properly?
The great Gavaskar played an innings of a lifetime when he scored that superlative 96 on a minefield of a pitch against Pakistan, where the tweakers were making the ball turn square off the wicket. He left his fans thunderstruck when he announced his retirement the same day. Surely, Navjot could have taken a leaf out of the great man's book. But he choose not to do so. Maybe he should have remembered Vijay Merchants words, "A top level sportsman should retire when the world asks 'Why'? and not when the world starts asking you 'why not'?" However, this 'why not' question was becoming more and more difficult to answer for Sidhu with each passing day.
Was it purity of a passion for the game which he calls as his 'puja' that proved to be so pervasive that it blinded him from reality? Or was he, like so many other champions, afraid of venturing into the hazardous terrain that life after sport is? Or was it the Cricket Board's rule stating that if a player plays 100 matches, he is eligible for a benefit match? This could be the most plausible explanation for Navjot dithering over his retirement plans, for he was just one Test match away (or, say 3 one-dayers) from achieving that milestone. Just a match away from raking in a fortune. Destiny follows no predictable pattern and Navjot Sidhu was not destined to play one more match. Knowing that there was no light at the end of the tunnel, Sidhu opted out.
After disastrous tours of Zimbabwe and New Zealand, where Navjot could not muster even a total of 50 runs in his last six Test match innings, the selectors thought it prudent to call in Sadagopan Ramesh for the first Test match against Pakistan in Chennai. The young southpaw clicked, and for Navjot the writing was on the wall. Unfortunately for the man, he failed to read between the lines. There were enough innuendoes from men who matter in the BCCI, but Sidhu kept on dithering. He simply could not bring himself to face the fact that his time was up.
Coming to his abilities as a top notch cricketer, Sidhu was a true fighter. And like the most coveted of trophies, the title of a 'fighter' is not bestowed on a sportsman so easily. True champions of sport, like Navjot Sidhu, have to earn it the hard way. It's a blood and guts road up to the pedestal. Had Sidhu not been a 'fighter', he could not have survived the pressure cooker atmosphere of international cricket for so long.
In limited overs cricket, Sidhu has authored some of India's most dramatic victories — like the win he set up against England in 1994 where he scored that marvellous unbeaten 134, when the Indians had lost all hope. In Test cricket, he has been the architect of one of the finest innings played — the classic 116 he scored against the West Indies in 1988 on the Sabina Park wicket in Jamaica, considered to be the fastest in the world.
Sidhu is a man of few words and listens to his own heart. As a batsman, he was never very stylised but he came good whenever it mattered most. With his will and sagacity, he lifted the art of batting to a different plane. He created a special identity for himself in Indian cricket --- an identity which can neither be identified with the flashy Tendulkar school of cricket nor with the passive Gavaskar mould.
His numerous comebacks have become a part of Indian cricketing folklore. Everytime he would be dropped from the Indian team, Sidhu was never the one to suffer the agony of being out in the wilderness. He always recovered swiftly from that melancholic mood, and with his characteristic mental toughness was always ready to script another of his comebacks.
Watching him build an inning in a Test match — brick by brick, layer by layer — like the 203 he crafted against the West Indians in Port of Spain in 1997 — has always been a treat. In his most exalted moments, Sidhu , like a Buddhist monk in meditation, was one with his work and together with it one with the world.
An abberation in his career came during the 1996 tour of England, where after a tiff with his skipper Azharuddin Sidhu took the first flight home. 'A flawed genius', said some, 'enfant terrible,' said others. However, he had his own compulsions which dripped of sentiment. Being the seniormost member of the team, he did not like being badly treated by his skipper.
This abberation might have put a full stop to his career, yet he escaped with just a comma. The reason for Sidhu being rehabilitated in double quick time was due to the fact that the dispensation in the BCCI at that time was favourably inclined towards him. The BCCI 'punished' him by banning him for just 50 days, and that also in the off season. At that time, Sidhu should have thanked his stars as also the men at the helm of the BCCI, for it due to their benevolence that Sidhu could be seen wearing the Indian jersey again.
Besides this, one is also reminded of the day Navjot Sidhu landed in Sydney in 1992, prior to the World Cup. The same day, the official plane of the President of the United States, Air Force-One, also landed in Sydney carrying President George Bush on a state visit. One of Australia's national daily newspapers, The Sydney Age, ran a front page banner headline 'Spotlight on Sidhu, Bush'. Significantly ,the world media had focused its attention on the world most powerful man and simultaneously on cricketer Navjot Sidhu. So much so for Navjot Sidhu's importance as a cricketer Down Under, and, in fact, everywhere he has played. From now onwards there will be no comebacks. Adieu, Navjot.