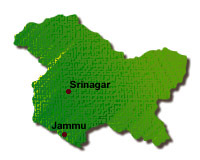 10 civilians among 24 killed in J&K
Tribune News Service and PTI
SRINAGAR, Feb 6 — At least 24 persons, including 10 civilians, were killed in separate incidents across Jammu and Kashmir since yesterday while security forces have seized a large quantity of arms and ammunition during search operations.
Nine persons, including five civilians, one of them a woman, were killed in an encounter between militants and the security forces at Khayar Hapatnar near Pahalgam in south Kashmir district of Anantnag in a night-long operation. Police sources said three militants and a jawan of the Rashtriya Rifles were also killed in the encounter. Five civilians were caught in the encounter between the militants and the security forces.
The civilians have been identified as Ghulam Hassan Bhat, Javed Ahmad Bhat, Mast Hafeeza, Ashiq Ahmad Bhat and Bashir Ahmad. Two militants have been identified as Mohammad Amin, alias Khalid, of Akkora Mattan near Anantnag and Khursheed Ahmad, alias Junaid, of Panchloora in the same area. The identity of the third militant was yet to be ascertained. One jawan of the Rashtriya Rifles was also killed in the encounter that started last evening.
Reports said the encounter started after the security forces cordoned off the village in the afternoon yesterday on following information that some militants were hiding in the area. The militants were asked to surrender, instead, they opened fire, leading to a night-long operation.
Four male members of a Gujjar family were killed near Pahalgam yesterday, the police sources said. Three of them were reported to have been police informers. Further details were awaited.
Three unidentified militants were killed in an encounter with the security forces at Kanil in Kupwara district.
The police said four militants, two security forces personnel and a member of the Village Defence Committee were killed in an encounter at Sanchal in Rajouri district. Three AK rifles and a grenade launcher were recovered from the site of the encounter.
An unidentified militant was killed in an encounter with the security forces at Rani Post Pulankote in the Mendhar area of Poonch district in Jammu region.
JAMMU: Four foreign mercenaries of the Tehreen-e-Jehad outfit were killed in an encounter with the security forces at the Darkeri area of Rajouri district.
The identity of three of the slain militants has been established as Bilal Bhai, Usmana and Abdul Rehman, all residents of Muzaffarabad in Pak-occupied Kashmir.
During a search operation in Kupwara, a rocket launcher with 16 rockets and an equal number of boosters, a pika gun, a universal machine gun, two 60 mm mortars with base plates, 25 highly explosive 60 mm mortar bombs, 17 rifle grenades, 12 hand grenades were seized.
Over 5,000 rounds of AK ammunition were also seized from the Mohra forest area of nearby Baramulla district during the searches.
The security forces arrested a suspected militants during checking vehicles at Idgah-Hawal area in Srinagar. A 12-bore double barrel gun, a 12-bore single barrel gun and a muzzle loaded gun were seized at the instance of the arrested person who was later handed over to the police for further investigation.
Two suspected persons, one each from Pulwama and Srinagar, were also arrested by troops and the police but no arms were seized from them.