Memories of the other side
By A.L. Chougule
VETERAN filmmaker Lekh Tandon has been a part of the film industry for nearly 50 years. At 71 he has still not lost his passion for making films and he doesn't hide his longing for the silver screen. But he knows the kind of films he makes don't run at the box-office and so for the past decade he has been making serials. He finds the small screen just right because, "It gives me an opportunity to say what I really want to and in the manner I wish to."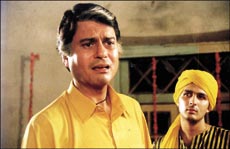 Tandon who has made three serials for Doordarshan — Doosra Kewal, Dil Darya and Farman — is currently occupied with two soaps, Adhikar running for one year on Zee and Daraar on air for the last four years on the same channel. While Daraar will wind up soon, Lekh Tandon has started another mega serial, Kahan Se Kahan Tak which premiered on Zee on January 6 and in which the veteran director has chosen to take a walk down memory lane to a remote village in Pakistan, where he was born.
"I was 19 when I left Pakistan," he recollects. "The country was divided, families were uprooted and divided." But Tandon says the serial does not focus on Partition and the communal violence of that time. "It talks about the partition which took place over the years. The neighbours, who at one time lived as one family but discarded human values and forgot love and brotherhood," he explains. He insists he does not want to reopen past wounds but to heal them.
The story starts 27 years after Partition. The central character is Col Prem Prakash Bhandari who still believes in traditions, moral values, friendship and love. He belongs to Faridpur, now in Pakistan but has settled down in Delhi after Partition. He still treasures the fond memories of childhood and youth and misses his friends and village. His mother still celebrates the birthday of Bhandari's very dear friend, Rehmat, whose whereabouts are unknown. Bhandari hopes that he will see his friend one day.
One day Rehmat appears unexpectedly. Bhandari is shocked when he learns that Rehmat has escaped from prison. Rehmat explains that, unknowingly, he had crossed the border and the Border Security Force arrested him. The BSF suspected him to be a spy and put him in jail. After nine years, he escaped from jail and pleads with Bhandari to help him to reach home safely.
While Bhandari is extremely happy to meet his old friend, he is also tense because he is giving shelter to a man who is a criminal in the eyes of the law. The entire family takes precautions to hide the fact that Rehmat is staying with them. Bhandari discreetly plans to help Rehmat reach the border, but while he is just about to cross the border, he is hit by a bullet and Bhandari has no option but to go with Rehmat to Faridpur.
Bhandari and Rehmat reach Faridpur but now Bhandari is a fugitive. As he continues staying there, memories of his childhood and youth resurface. A Muslim family now lives in the house Bhandari once lived in. When the police arrive to search for him, he is hidden in the same house. Back home, Bhandari's family members are questioned and harassed. Though Bhandari's mother knows that her son would be in Faridpur, she refuses to reveal the truth.
Bhandari tries to cross the border but his attempts are unsuccessful. Resigned to fate, he stays back in Faridpur. As the days pass, the entire village accepts him as the son of the soil who returned to his home. Bhandari changes his name and identity and lives there as one of them.
After almost one year, Bhandari's mother decides to bring her son back to India. She approaches the authorities and reveals the truth. Bhandari is traced and brought back to India. He loses his job and he is sent to prison. But he does not regret it because in that one year he lived a life that he will always cherish.
Tandon says the focus of his serial is on the relationship between the people of the two countries. What was once Tandon's village is now a foreign land but he still treasures those early memories. "Can you divide the Harappan civilisation? Can you divide the music, the arts, the poetry? So what have we divided? Just the land?" he asks. These are the questions Tandon chooses to address in Kahan Se Kahan Tak.
The serial has been planned for 104 episodes and it may get extended if the TRPs permit. It is produced by Manish Goswami and the key roles in the serial are played by Kanwaljeet, Pawan Malhotra, Arundhiti, Shikha Swaroop, Rishab Shukla, Raju Kher and Smita Bansal.— ANF