Saans: A breath of fresh air
By Vimla Patil
TEN years ago, Neena Gupta, a stage and film actress of no celebrity standing in either field, suddenly catapulted to national fame. Elite newspapers and mediapersons stood aghast as she gave birth to a baby girl — boldly and unrepentantly — without marriage and without even announcing the name of the child's father. Mumbai, her karmabhoomi, was in a tizzy over this event. Used to women who needed to break social rules to prove their strength or individualism, Mumbaikars had seen and chuckled over Protima Bedi's nude streaking on Juhu Beach and her love affair with Kabir Bedi. But even Protima had quickly married Kabir when she found she was pregnant with her daughter Pooja.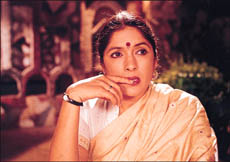 Then Mumbaikars saw Dolly Thakore have a son by Alyque Padamsee. But in this case, Alique had been living with Dolly for years and the paternity of the child was in no doubt whatsoever. In Neena's case, the society-watchers of Mumbai, used to gimmicky libbers, were confounded because she had no known romantic relationship with a man, nor was she living with any man. It seemed that West Indian cricket star Viv Richards swept into Mumbai one day, had a one night stand with Neena and vanished leaving her pregnant. Also, with the finger of suspicion pointing towards Viv, the international media, too, took a keen and amused interest in his escapade and the 'affair' was widely publicised.
Even then, Neena remained in the backwaters of the media world. It was only when the intrepid Pritish Nandy, hounding her, obtained a xerox of her child's birth certificate which clearly mentioned the name of Viv Richards as the father of Masaba, that Neena became an overnight celebrity. The birth certificate was published in the Illustrated Weekly of India, which later folded up just after Nandy finished editing it into a broadsheet or a tabloid.
This disclosure made Neena famous overnight and got her the recognition of being a 'maverick libber'. The second controversy in Neena's life — the choli ke pichchey song — got her further attention. She was raunchy, sexy and teasingly bold in Khalnayak and such roles became routine for her film career thereafter. Ila Arun sang and Neena Gupta continued to dance to borderline lyrics written by unknown folk poets.
But behind these "one of events" which have shaped Gupta's life, there is the real or different Neena Gupta. And aquainting oneself with this other Neena Gupta is important because otherwise, many women, are likely to get carried away by her brand of women's liberation which may prove not so beneficial for women and their future in the long run.
At the present time, Gupta is once again in the news because of Saans (Star Plus), her eminently watchable TV soap opera. In this serial, which she has 'written' (a team of script writers takes her ideas and works out the serial episode by episode) she has highlighted the lives of 35+educated women, whom she calls a "dead" generation. They have lost their passion for love, sex and joy and don't know where they're headed," she says, "They are prime targets for husbands who work in challenging environments and meet attractive, available younger women, who are prepared for adventurous extra-marital relationships or even bigamous marriages. The 35+ women are so eminently dumpable.
In Saans, I am calling upon this 'lost' generation to take its dithering destiny in hand and get on with life — to achieve an identity which will last women for a lifetime. It is the 35+ wife-mother who is being brutalised today by erring or inconsiderate husbands and facing the responsibility of bringing up children."
The response to her role (Priya) and that of Kanwaljeet (Gautam) is typical of this truth. Women from all over India phone her or write to her that she must not let Gautam get away with an easy divorce or a mere bigamy suit in the court. He must, they say, be brought to his knees, begging for forgiveness and made to accept his responsibilities for wife, children and home once more. Too many men, say the 35+ women, get away to funland with a quick divorce. And with most wife-mothers not working, the abandoned family lives a wretched, impoverished life. Neena says this anger among women comes through strongly when she interacts with women of all strata through viewer's forums in metros as well as small towns. Neena is currently also acting in Neeyat (Zee) and directing Palchhin for Star Plus.
Gupta's personal life too has taken a somersault. "I don't subscribe to the extremist element in the Women's lib movement any more. I think nothing can really come of this extremism. Women are condemned by their own natural destiny of bearing children. Once they have children, they can never abandon them. When a child's destiny is intertwined so completely with that of the mother where can she fly off? She needs a man to take care of her and the children. The child needs a father figure and this is the final truth as I see it. Total financial independence for women is a distant dream and as dependants, women have little chance to successfully fight for their rights to equality in a male-money dominated world."
Gupta says Viv Richards visits her often. "I never expected this. But I am happy I had Masaba. I have no regrets on that score. Without her, I would be a drifter. She is my anchor and she knows the circumstances of her birth. Viv and I are friends but we can never marry. I am looking for a suitable man of my liking to marry because without a man in my life, I think I am not complete. My father plays the father figure to Masaba but many children go astray without any protective umbrella over their heads.
Has she come a full circle from her "liberated spirit" days? It would seem so. Once making strident calls for freedom for women, she predicts today that there will be 'no great change' in women's status in the next century. "They have to work out problems with men, not without them," she says, "My good times today are eating and shopping to get rid of negative thoughts. But I want a marriage to go home to. I need a good man to take care of me. I need a solid base to my life. Work is one side of life. Emotional security is the other and both are necessary for every woman!"