A role to remember...
By Vimla Patil
"THE best compliment I have ever received in my life came from my husband Harsh Chhaya. When he saw the film Satya and my role in it, he said, 'Even if you never act again in your life, or even if you had never acted before, what you have done in this film alone will ensure your place in the profession of acting. You were superb.' I felt I have been richly rewarded when I heard these word", says Shefali Chhaya, TV and film actress who the limelight of media accolades today.
Suddenly and rather unexpectedly, Ram Gopal Verma's film Satya has become such a runaway hit that Shefali's role in it is being noticed by the industry and millions of filmgoers alike. Indeed, so effective and memorable is her performance that discerning film buffs are saying that she has overshadowed the heroine, the sexy, sensual Urmila Matondkar, who is reputed to be Ram Gopal's eternal favourite. Though Urmila provides whatever little glamour and romance there is in Satya (with the newcomer South Indian star Chakravarti), it is Shefali and the incredibly masterful Manoj Bajpai — who enact characters very much like Arun Gawli and Asha Gawli — who dominate the film totally. So powerful is their combined contribution to the film, that if the two were to be out of the film, the movie would collapse like a house of cards.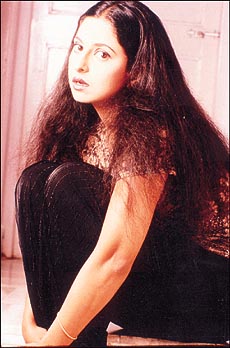 Shefali has come to this major achievement after a long and hard struggle to become a good actress. "I have never had any formal training in acting," she says, "I feel mine was an inborn talent. I did theatre right from college days (Doctor Tame Pan? in Gujarati and other plays). In fact my college admission was obtained on the merit of my theatre talent. In one such play, I met one of the team members of the TV serial Campus and he suggested that I take part in it. I was auditioned and immediately taken in that serial. Later, Tara, which ran for many popular months followed and then came Nukkad and Daraar. At present, I am working in Banegi Apni Baat, Hasratein, Adhikar and Kabhi Kabhie, the Sunday soap on Star Plus. One more serial, Rahen is scheduled to be telecast from next month. Many would imagine that with so many serials in hand, I would be madly busy. This is not so. TV shooting is very disciplined and compactly conducted because TV serials have to stick to a stringent budget. The production canvas is small and the stars or actors have to adhere to time-bound schedules or else working in this field becomes difficult. In a serial shooting day, we often do six or seven scenes in a day. Therefore the number of serials I do keep me busy for about 20 days in a month or less. Today, TV productions are also in a recession so that work is less and the money paid to the actors is relatively less. Some stars are highly paid but compared to remunerations two years ago, there is less money available today. Cinema shooting is different because the whole proportion is huge. The money involved and the production culture is different. A film can take months or even years to complete. The stars are paid very highly and their dates have to be available. I think sometimes economy is not practised. Satya for instance, could have been made in a shorter time because we were all fresh actors except Urmila. But it took over six months. That's the way the film industry works."
Satya is not Shefali's first appearance in a Hindi film. She was introduced in a small, minuscule role in Rangeela, also a Ram Gopal Verma hit. 'I did not even know the director then," she reminisces, "An assistant offered me the role, I took it and was completely disappointed to see what it was. I felt cheated and walked out of the film. This time around, when Satya was offered to me, I knew about all my scenes, the character I was to play and the essential nature of the woman. I never knew the role was akin to the personality of Asha Gawli but when the director explained the character to me, I knew instinctively how I would portray each layer of the woman's personality. I knew her inside out. I suppose this shows on the screen. Ram Gopalji allowed each one of us to choose our wardrobe and accessories.
So, I added the colours, the style and the look as my contribution to my role. Urmila's clothes were designed by Manish Malhotra. I think Manoj Bajpai's was the 'star' role of Satya. He is brilliant. He literally lives the role of Bhiku Mhatre. He is a superb actor and has proved that looks and glamour are not essential for success in film industry. I personally feel I can also act the role of a heroine if given the right break. I would love to work with good directors who can etch out life-like characters. I can dance, run around the trees — if the role demands it. I think the days of non-glamorous films are here and may be good actors will be in demand. I am looking forward to more roles."
Shefali Chhaya is married to Harsh Chhaya, also a TV actor. Daughter of a Mangalorean father (Shetty) who is a banker and a Gujarati mother who is a doctor, Shefali has seen lean days when her parents worked hard to come up in life. "They've given me everything. So much that I could never repay their debt. I would never expect anything more of them. I must now give them care and love," she says. She speaks Tulu, Hindi, English and Gujarati fluently. If she succeeds in becoming a heroine, she will probably be one of Hindi cinema's pioneering modern married leading ladies. Long ago, examples were set by women like Meenakshi (Shilpa and Namrata Shirodkar's grand-mother), Shobhana Samarth (Kajol's grandmother), Shanta Hublikar, Nutan (Mohnish Behl's mother), Rakhee Gulzar and others who were successful stars long after marriage. There is no reason why Shefali should not follow in their illustrious footsteps!