Hindustani clocks a century
CINEVISTA Communications by now has earned the somewhat dubious distinction of producing the longest running soaps in the history of Indian television. Junoon holds the record in Asia for having a run of over five years. Sahil ran for 100 episodes before going off the air. Now it is likely to be revived by Doordarshan.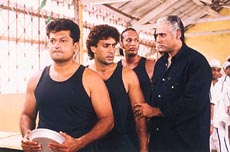 Now it is the turn of Cinevista's Hindustani which has clocked over 100 episodes and looks in no mood of winding up. Directed by Puneet Issar, the serial deals with goons, prostitutes, political assassinations and other nefarious doings of the underworld.
According to Puneet Issar, the reason for Hindustani's popularity is that it is very filmy. "Like in films we use cranes, trolleys, special-effects and quality technicians. The theme too is very interesting. Having dealt with drug dealers, terrorists and prostitutes we will now show bomb blasts and other methods of spreading panic."
Issar says that the serial is planned for 200 episodes, Which is not a difficult task considering the kind of message it is spreading!
Archana — the rising star
She's floating somewhere between cloud nine and seventh heaven. And why not? Archana Puran Singh is a contended lady today.
Ironically, just half-a-decade ago nobody could have imagined that she would become one of the most in-demand women of the small screen. At that time all she had to show were a couple of flop films as the main lead and many sizzling dance sequences and many a rumoured affairs with her directors and co-stars.
But then the skies opened up for her and she was at once in the limelight with Zee TV's Kya Scene hai. Since then she has never looked back.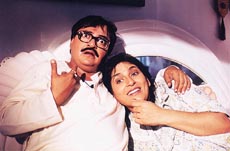 The lady has of late turned to direction and two of her serials Jaane Bhi Do Paaro and Nehle Pe Dehla are scaling the popularity charts. "I was a bit nervous when I was offered direction. But I accepted the challenge and have never regretted my decision to tread on unchartered territory," says the highly articulate Archana. Now with the prestigious Asian Television Award for the best anchor in Sony's Uncensored under her belt, Archana can be confident of the fact that her star is shining brighter than ever before.
Twist in the tail
It's one of those oft-repeated sagas of family intrigues but with all the ingredients of a pot-boiler — romance, treachery, revenge, murder and plot upon sub-plot.
Waaris on Doordarshan is an on-going saga of a bloody feud between two Rajput families which has been going on from one generation to the next.
The serial begins with Thakur Mahendra Pratap being brutally murdered by Thakur Bhanu Pratap. The killed man's wife is shattered at being widowed and in fright shifts to Mumbai. Years later her son, Vijay is returning from abroad after a long time.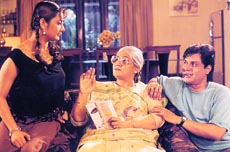 On the way from the airport to his house Vijay is brutally murdered by goons of the rival family. Later that evening when his killers are rejoicing over their 'triumph' there is a sudden bursting of crackers. And what they see before their eyes makes them almost swoon with shock.
There, standing in front of them is a smiling Vijay. There is both panic and shock at the sight of the supposedly dead man. They can't believe their eyes. But the question is: Who is this man? He couldn't be Vijay as they have themselves killed him. If it is Vijay then, the question arises, can a dead man be alive again? Only one man knows the answer.
Waaris starts off on a weak note but later develops into a gripping suspense drama. Worth a dekko.
Select your own Miss India
Sony TV seems is all geared up to steal the thunder from Star TV's Star Miss Siyaram The channel has announced an innovative contest titled My Miss India where viewers are asked to watch Sony programmes every week from Monday to Friday at 7.30 p.m. for the profile of each of the 29 contestants and write back to the channel with their choice of who they think is their Miss India.
The contestant with the maximum votes will be crowned My Miss India' and a lucky viewer, along with a partner, will enjoy an all-paid special dinner with the chosen Miss India's Mumbai.
The competition is being extensively advertised on Sony's website, www, setindia. com and has received a mind-boggling response.
Any guesses about the woman whose gait, wit and smile will fit the crown? If you have any write to Sony TV. If you don't have any, just watch this interesting competition.
Love in a palace
There has always been a mystique surrounding royalty. They are set apart from the ordinary individual, playing the role of both movie stars and statesman. They are under constant pressure to be perfect. That is all great when love and duty are in harmony, but it is agony when they are in conflict.
Discovery Channel discloses the true stories behind the infamous love lives of the British Royal Family. Airing as part of the Discovery Showcase — Royal Lovers premieres on February 14.
The show focuses on the recent rumblings in the royal family which has struggled to maintain the myth of monarchy. When the mask slips, the public can turn against its heroes and heroines.
Royal lovers have always been a source of fascination. But the truth often has been hidden behind a veil of secrecy. The series travels back 300 years to examine the love affairs of Charles II and traces the affairs of Charles' descendants, including Edward VII, Princess Margaret, Prince Andrew, and concludes with the collapse of the marriage of Charles and Diana.
Royal Lovers reveals that the romantic and sexual adventures of royal princes and princesses have always been, and will continue to be, headline news well into the 21st century.,
— Mukesh Khosla