Honouring the bravest of the brave
By Satyindra Singh

THE first among equals are our holders of the Param Vir Chakra. Sixteen men of Indian Army and one of the Indian Air Force have been honoured by the nation between 1947 to date. Only two of them remain living legends. And they are Lt. Col. Dhan Singh Thapa of 1/8 Gorkha Rifles and Subedar Bana Singh of 8 J&K LI.
Gallantry has always commanded respect and recognition. In primitive societies the leadership of the clan or the tribe fell upon the most brave. The origin of the state saw the brave elevated to kingship. The evolution of regular armies, however, demanded elaboration of the system of honours and awards.
Our scriptures have recorded. "The world rests on the arms of heores like a son on those of his sire. He, therefore, that is a hero deserves respect under every circumstance. There is nothing higher in the three worlds than heroism. The hero protects and cherishes all, and all things depend upon the hero." Further, in the Bhagwat Gita it is stated that:
"Further having regard for thine own duty,
Thou should'st not falter,
There exists no greater good for a warrior,
Than a battle enjoined by duty.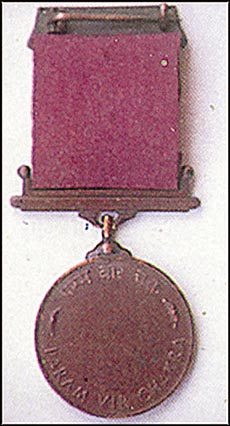 On every Republic Day they are ritually remembered by us. They stand in a jeep and are feebly cheered by the crowds who know little about their achievements and the honour they brought to the nation. To quote a few words from the citation of October 20, 1962, relating to now 71- year-old Dhan Singh Thapa from Himachal Pradesh. "On 20th October, 1962, the post was attacked by the Chinese in overwhelming strenghth after being subjected to intensive artillery and mortar bombardment. Under his gallant command the greatly outnumbered post repulsed the attack, inflicting heavy casualties on the aggressors. The enemy attacked again in greater numbers after having shelling by artillery and mortar fire. Under the leadershiop of Major Thapa his men repulsed this attack also with heavy losses to the enemy. The Chinese attacked for the third time, now with tanks to support the infantry. Though considerably thinned the post held out to the last. When it was finally over run by the overwhelming numbers of Chinese, Major Thapa got out of his trench and killed several of the enemy in hand to hand fighting..."
In an interview to NDTV later, Thapa said that when the then Rashtrapati Sarvapalli Radhakrishna, pinned the PVC to his chest he recalled his words that this award was nothing for what Thapa had achieved for the nation; it was only a token but an incentive to all others. He recalled these words with much emotion and nostalgia.
The other PVC on the parade was Subedar Bana Singh still serving and now in his early fifties.
Out of the Victoria Cross winners alive, only one could make it to the parade, he is Subedar Major and Hon Capitain Bhandari Ram of the 16 Baluch Regiment, now nearing 80 and in indifferent health but also proudly displayed the highest pre-independence gallantry award. And a few words from the citation of this award which he received for his gallant action on July 24,1944. "Underterred and bespattered with blood, Sepoy Bhandari Ram, with superhuman courage and determination, crawled to within five yards of the objective and threw a grenade killing the enemy gunner and two other men. Inspired by his example, the platoon rushed up and captured the position..."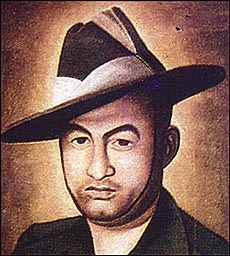 Four years ago when one of our V.C. awardess went to the U.K. for the V.C.'s reunion the man was sluted by a Cabinet Minister when the latter saw the most covered medal on his chest and also insisted on making way to his car. The British Prime Minister also made their annual allowance as to a monthly one of the same amount. An occurrence unlikely to ever happen here.
We see ourselves "gentlemen" with criminal records in our legislatures and their privileges and perks increase in a perennial fashion not to mention their discretionary quotas and pensions, too, after a couple of years as members. They also get a crore a year to play about with as they wish. And there is also free rail travel later and with a blind eye by the authorities to illegal occupation of government accommodation for years.
Why cannot the likes of Dhan Singh Thapa be nominated to the Rajya Sabha to represent the non/existent lobby of the bravest of the brave and the first among equals? And if ever he makes it and gets a salute by the sentry when entering the portals of the legislature, it will indeed be salute to the nation, which he truly epitomises.
Our Chief of the Army Staff, general Ved Malik has announced that this is going to be the year of the jawan. One small way and partial recognition would be to get a jawan of this category in one of our legislatures. We know that General Malik can do it, for the motto of his regiment is Aut Viam Inveniam Aut Faciam — I shall find a way or make one!
There is a most interesting origin of the design of our Param Vir Chakra and a few lines on this need to be quoted. The distiguished lady who designed the medal was Savitri, wife of the late Maj. General Khanolkar of the Sikh Regiment. She was a remarkable lady with many gifts. It was after Independence that she was asked by Army HQ to design a medal for the highest award for valour. Savitri Khanolkar took her inspiration from Rishi Dadich who donated his thigh bone to the gods to make a Vajra (thunderbolt). On either side of the Vajra she put Shivaji's sword Bhawani.
I asked Lt. Gen Harbaksh Singh - now 85 - and very closely associated with the Sikh Regiment, a hero of the 1965 Indo-Pak War, for his reminiscence of the lady, and he said: "Born of Hungarian parents, Mrs. Khanolkar lost her mother at birth. Her father was then a librarian of the League of Nations in Geneva. She was brought up by him and put in a school at Riviera, near the sea-coast. She missed her mother from the very beginning, and would often question her father as to where was her mother, and why did he come alone to school to see her? While on leave from school, she had ample opportunity to study books; and somehow she took a liking to India. At school, missing her mother, she adopted the sea nearby as her mother; and the sea-surfs as her mother's bosom. She loved bathing in the sea and lolling about, which she considered her mother's bosom!
"One day she was holidaying, with other families and her father, on the beaches of Riviera. Her father led her to a batch of Indians, also holdaying from Sandhurst, in London. And Khanolkar was the first Indian she encountered. She insisted on taking his address, and communicating with him by post. She was then only 14 years old. She communicated with Khanolkar at Sandhurst. Khanolkar finished his course at Sandhurst, and was posted to 5/11the Sikh in Aurangabad. There he received a letter from her to say that she was arriving in Bombay, and he should meet her. He met her in Bombay ( a city which he himself belonged to, being a Mahara-shtran) and they got married there. She was then only 15 years' old and Khanolkar about 27. He brought her to Aurangabad as her bride; but this was not liked by the British Officers in the Battalion - firstly because she was a foreigner, and secondly because he had married against the unwritten law that as a British officer, you could not marry until you were 30.
"Mrs Khanolkar was truly an Indian wife. She had been to Patna University and learnt Hindi and Sanskrit. She dressed simply, in cotton saris, and wore no rouge, and had chappals to wear! For a time, Captain Khanolkar was my Company Commander in the Battalion and I had very close contact with his family. I liked Mrs Khanolkar and her ways immensely. She had become the follower of Ramakrishna, and started following Vedants. And, by her ways, she inducted me into Vedanta. I spent a month with the Khanolkars in Nowshera, our regimental centre then, when he was posted there after Aurangabad, and learnt 'mediatation' under her guidance.
"When I was a POW in Malayua during World Ward II, our POW camp Commandant was Japanese Captain Sato and he told me that he was teacher at Tokyo University and also a student of Vedanta philosophy. He also showed me many volumes on the subject.
"When her husband died, she became a nun of the Ramakrishanan Mission. Mrs Khanolkar is herself dead now (passed away in 1990), but what a person!"