Peace that surpasseth understanding
By Vimla Patil
SHASHIKALA JAWALKAR-SAIGAL. The name doesn't even ring a bell you'd say. But abridge this long name to only Shashikala, and you'll find a cacophony of bells ringing with innumerable memories of the films you have seen in the past. Shashikala, the number one whining, taunting, tormenting vamp of the Hindi cinema, has been a household name which was synonymous earlier with a flighty woman who pouted and plotted the downfall of others, and later with a cruel sister or mother in law who tortured younger women.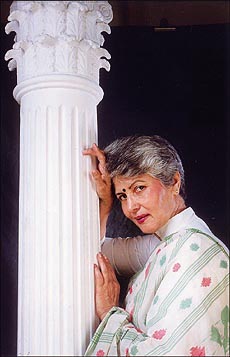 She has played such hateful roles literally in hundreds of films. Yet, behind those bouffant hairstyles and pouting lips, behind those cruel verbal jibes hides a woman whose life is like an riveting novel which you cannot put down once you have started to read it. Shashikala was born in Sholapur to parents who were well-to-do to begin with. However, when adversity struck, they lost everything in providing for the extended Jawalkar family.
Bankrupted by ill luck, her father brought the children — six in all — to Mumbai, so that Shashikala, the best looking among them, could look for work in films. "I had been a, mela artist as a child in my hometown for years. At five, I was dancing, singing and acting in melas' in many towns of Sholapur district. So naturally, I was to be the breadwinner for the family. We lived with friends, often eating only bread and water, and I wandered from studio to studio looking for work. I earned in bits and pieces till I met the great Noorjehan, the reigning screen queen of the era. Her husband, Shaukat, was making Zeenat then and I was included in a qawwali scene. The film was to be in Urdu and I had to quickly learn the language, almost to the point of forgetting Marathi, my mother tongue, which I can barely speak well even today. After Zeenat, for which I got Rs 25, I struggled on and did films for P.N. Arora, Amiya Chakravarti and other film doyens at Rs 400 a month. I played heroine to Ashok Kumar and Karan Dewan — all before Partition. Just at this juncture in my life, I married Om Prakash Saigal, who belonged to the K.L. Saigal family and had two daughters. I was barely in my early twenties at that time. I continued to struggle and played a role in V. Shantaram's Teen Bati Char Rasta and other films in this second phase of my career.
It was in Tarachand Barjatya's Aarti with Meena Kumari, Ashok Kumar and Pradeep Kumar that I clicked as a vamp for the first time. The movie was a superhit and offers poured in for roles — one more cruel than the next. I made Junglee, Anupama, Sujata, Phool Aur Pathar, Ayi Milan ki Bela, Gumrah and Waqt and was nominated for the Filmfare Award five times. In those days, vamps and heroines were distinctly different — one was a cabaret dancer and bad woman and other was goody goody. Today, heroines and heroes, both do dancing and accept negative roles, putting the villain or vamp out of business!
"At about this time, I had serious differences with my husband and was misguided by a friend to leave him. This was a mistake I made and I suffered agonies of guilt because my children were badly hurt. I tortured myself when my family was hurt and therefore turned against me. I had no one to look to and became a wreck — emotionally and physically. I wandered around looking for a way to regain my lost peace, but my self-torture only got worse. I lived in Pune, did social work, I went to Calcutta, worked in Ashrams but to little avail. For 16 years, I went religiously to the Vipashana centre near Nasik and here, through total devotion and dedication, I cured myself to a certain extent.
My true release came when I met Mother Teresa in Calcutta and worked for nine years in her various homes, cleaning latrines, sweeping floors and wards, loving leprosy patients, cuddling orphans and staying by the deathbed of many. Throughout these years, I received incomparable love from the Mother whose blessings and hand of mercy was always over my head. Her love was infinite and slowly, through her healing, Ibecame peaceful and confident again. I washed out the sorrow of my deprived childhood, my untimely and heavy responsibilities, the loss of my parents and the guilt of my mistake — all in one blissful touch from the Mother.
"I still work for her institutions. But to rebuild my career, I had to come to Mumbai and start the third phase of my career in the film industry. I have helped many industry people including Dilip Kumar and Saira Bano, to meet the Mother and they too have overcome their agitation and trauma through her touch and mercy. I have earned lifelong peace and lost all my fear. I could bear the sorrow of my daughter's death when she died of cancer, because of the courage Mother gave me. Today, Ilive like an American, doing all my work myself with total self reliance. My husband is ill and confined to our farm in Nainital. Ivisit him often. My other daughter lives in Calcutta and we often have good times together. I manage my career, my money and my life by myself. Meditation, prayer and Mother's love which envelopes me fully, keep me young and fit.
At 66, Shashikala has a shining skin, thick hair, good teeth and an erect back. She is active, smiling and busy. Now in the third phase of her career, she is doing four television serials — Jeena Isi Ka Naam for Sony; Apnapan for Zee, Dil Deke Dekho for Star Plus and one more which is in the pipeline. She has excellent roles in Mother '98 (a Swan Kumar Tak film) Pardesi Babu, Agniputra with Mithun Chakravorty and Badshah in which she is Shah Rukh Khan's mother. "He is a perfect star," she says about Shah Rukh, "he is disciplined, very hard working, well-mannered and good to his seniors. Working with him is a pleasure." Shashikala, who lives an affluent lifestyle, hopes to improve her career. She values her self reliance and her tireless working capacity. But her greatest possession is the peace which is a gift of the Mother. She wears this gift like a shining medallion over her greying head!