The consummate actress
By Subhash K. Jha
WE'VE seen her quietly assured performances on stage and in television serials, We also saw her give a National-award winning performance in Mrinal Sen's Hindi-language film Ek Din Achanak where she played Shabana Azmi's mother, Uttara Baokar matched the awesome Azmi step by step. in real life there's nothing ostentatious about this versatile actress. No tell-tale sings of self satisfaction after having played an enviable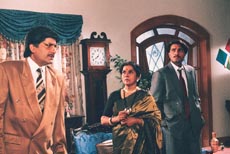 gamut of roles that have given her a chance to play atypical characters in three diverse media. Whether on stage or the visual medium, Uttara Baokar refuses to play stereotypical parts.
Currently busy lending a multi-dimensional hue to her part as Renuka Shahane's mother-in-law in Asha Parekh's long running soap Kora Kagaz, Uttara speaks on her singleminded devotion to the performing artsand why she's so distanced from the average screen mother.
Not much is known about your life and background. Could you tell us a bit about yourself?
I've been associated with the theatre for the past 30 years. In 1965 I joined the National School Of Drama in Delhi as a student. I was active on stage until 1995.
Why did it take you so long to move to the visual medium?
Earlier on, television wasn't such an "alive" medium. There was only Doordarshan. I was doing some work there but theatre remained my first love. It still is my first love. In the Repertory company there were many other good actors who were doing wonderful work. But with the passage of time television become a predominant medium. Its existence couldn't be ignored. My stage colleagues in Delhi began shifting to Mumbai. There came a time for me when I could no longer make a living out of acting on stage.
So it was an economic need that drove you from the stage to television?
Partly yes. But there was more. Television of fears a much wider scope of reaching audiences than theatre. Besides, I got to play challenging roles on television, like that of a nagging mentally un stable wife to Dr Shreeram Lagoo in DD's Upanyas. Even before Upanyas I did roles in Kavita Chowdhary's Udaan and Govind Nihalani's Tamas. Both were highly appreciated.
You were fortunate enough to be approached only for strong parts. Nobody seems to consider you for those trite two-bit mother's roles?
No, and thank God for that! I've consciously avoided doing bit roles here and there. When I went over to Mumbai to give television a try I called up my theatre friends with whom I had worked in Delhi. I told them I' was open to good offers. That's when I shifted bag and baggage to Mumbai. Actually I don't stay in Mumbai. I stay in Pune. It's a four-hour's journey. I come and stay in Mumbai whenever there's shooting. Then I move back to Pune, It's as easy as that (laughs).
Was it difficult for you to establish contact with Mumbai's television world?
Not really, I told directors like Govind Nihalani and Kavita Chowdhary about my wish to act in Mumbai. That's how it started. Gradually people there came to know about the existence of an actress called Uttara Baokar (laughs).
Does television give you the same creative satisfaction as theatre?
No of course not. But there's so much work for actors to do on television. I get the opportunity to play different roles, like the one of the flippant Aunt Pinky in Banegi Apni Baat which I really enjoy doing. However the quality of the output leaves much to be desired. The serials that I did earlier on Doordarshan were of a far superior quality. I'm doing just a selected few serials where I've different, substantial roles. These keep me busy for 15 days a month. That's all the work I need and want. I don't want to get into the multi-shift rut. To be honest Television isn't all that fascinating for me.
Do you look back fondly on your long stint on the stage in Delhi?
I honestly miss doing theatre. Serials just don't give me the same satisfaction I've done wonderful plays and roles in theatre. That kind of involvement is missing on television. I do enjoy doing a serial occasionally, like Asha Parekh's Kora Kagaz which I'm doing wont now. Though it's a mother-in-law's role it has a certain dignity and dimension to it. I'm enjoying playing this role.
Are you a family woman in real life?
If by family woman you mean, marriage then no. Basically I'm a loner (laughs). After I finish my work I go home. I brood or read. I stay with my father. I don't much care for attending parties socialising. I worked at a hecticpace for 30 years, I was so consumed by theatre that I hardly had time for myself. Now I'm making up for lost time.
Did you never think of getting married?
I did. But it never happened. I don't miss being married. Because I've many friends of both the sexes. As for missing out on the experience of marriage and motherhood, there are so many things that one doesn't experience first hand. It doesn't make me incompleted as a humanbeing or as an actress
Irenically, your most celebrated role in the cinema is that of a mother in Mrinal Sen's Ek Din Achanak. How did you get that role?
Earlier had the opportunity to work with Mrinal Sen in a serial called Kabhi Door Kabhi Paas. That's how he came to know about my work. When he offered me the role in Ek Din Achacnak I grabbed it. Another mother's role that I did was in a award-winning Marathi film called Doghi. These are the only two notable feature film I've done. I'm not interested in doing insignificant roles in films. Every role should be worth my while Some filmmakers did offer me mother's roles in conventional commercial cinema. I refused these offers. Now I'm playing Ajay Devgan's mother in Govind Nhalani's Takshak. It's a small role. But I enjoy working with Govindji.
What are the other serials you are doing on television?
Two of them — Kora Kagaz and Benegi Apni Baat are on air. I believe they're going to finally end Banegi Apni Baat. At least this time they seem to be serious about ending it (laughs). Then I'm playing Renuka Shahane's mother in a forthcoming serial. It's a different kind of mother.
Who are the people you've enjoyed working with in theatre and on television?
In theatre I enjoyed working with Manohar Singh and Surekha Sikri. Luckily I had the opportunity to work with them on television also. I feel comfortable working with them. We know each other so well. Then again I've jelled with actors whom I didn't know at all. Initially it was hard to work with Vikram Gokhale in Udaan. But things fell into place soon after.
You seem to have led life on your own terms. Did your family approve of your decision to pursue a career in acting?
Oh absolutely. Initially. I wanted to become a professional singer. I learnt music for seven years. Once I discovered acting, I couldn't give any time to my music. In my early years I dreamt of joining the Marathi theatre and do both singing acting — as is the tradition of stage in Maharashta. The credit for my interest in acting must go to the legendary. Ebrahim Alkazi of the National School Of Drama in Delhi. Mr Alkazi went as far as to ask my parents to let me join the NSD. I must say my early training in music has helped me tremendously in my acting.
Many of your colleges from the NSD like Naseeruddin Shah and Aneeta Kanwar migrated to Mumbai. Do you feel you've been untrue to your talents by going beyond theatre?
Untrue? I had no option. As you know Hindi theatre doesn't have commerciall potential. What was I going tad do? There was hardly a theatre group in Delhi! An actor has to act after all!
Do you have any plans of making your own serial?
I haven't thought about it seriously. But I'm looking forward to doing it some day. I'd like to make something which others aren't making. As an actress I've no reason to complain. I've had a really wonderful time in theatre, and I'm having a ball on television. I'm contented with life. I'm happy, and that's not acting (laughs).