More food for thought on air
IN case you were missing it, here's another show which promises 'wholesome entertainment for the whole family'. Khoon Ka Rishta, will be on air on the national network which dealing with stories taken from everyday life, but having mystery connotations.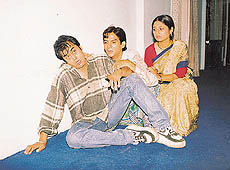 Most of the stories harp on the fact that there are certain mysteries in normal life which defy an explanation. Some call them miracles others say they are acts of God while some try and explain them scientifically. It is this mystery element which forms the pivot of Khoon Ka Rishta.
Directed by Ravi Varma, the serial is set to make in-roads into the hearts of television viewers through its interesting story lines picturised in rich locations. Presently the serial is approved for 26 episodes, but depending on public response, could go much beyond that.
On a food binge
It's a show which has quietly built up a dedicated fan following. One of the reasons for the strong appeal of Zaike Ka Safar is that it explores not just the food but also the culture of a city or a region.
Hosted by the petite Mona Bhattacharya, the show has completed four years — first on EL and then on ZEE TV.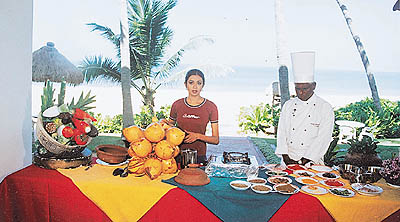 And now Zaike Ka Safar is widening its horizons. Its first stop is Sri Lanka where the team tours the golden beaches of Colombo, the historic temples of Bantota, the gigantic monuments of Anuradhapura and the lush tea gardens of Nuwara Eliya.
The cuisine of the Lankans is as varied as the land. Viewers get a chance to get acquainted with the exotic herbs, spices and vegetables which go to make the local food. Apart from the staple rice and curries there are delicacies like Appa, Kuttu, Kokis, Thiyal and Pittu. As also dishes which have been influenced by the Indian, Arab, Dutch, Portuguese and English people.
Which all goes to make the seven episodes of Zaika Ka Safar on Sri Lanka (till June 16) a gastronomic delight.
Return of mastermind
Once again the hunt is on for the person who will win the title of Mastermind India. One hot seat. Four minutes of sustained interrogation. And one winner. No frills, no gimmicks. No prizes. Just the pride of special accomplishment. And ultimately the accolade — Mastermind India.
The second series of Mastermind India, one of the most prestigious quiz shows on BBC in its original version, is scheduled to be telecast from early August 1999.
The year 1998 marked the successful inaugural run of Mastermind India in which hundreds of contenders from all over country answered questions from the famous black chair. And the overall winner was Dayita Bira Dutta, a Dehra Dun school teacher. A book of questions asked in the first version has been released by BBC.
This year too, the quiz is being presented by Siddhartha Basu. The 1999 Mastermind will have four zonal preliminaries and one zonal final all leading to a national final which will be recorded in six different cities. So brush up your trivia and get set for another exciting round of Mastermind India. It's bound to bowl you over.
Best of Shekhar Suman
One must hand it to Shekhar Suman when it comes to praising his own shows. No matter what the critics are saying, but any show or serial which the star does is the best he's ever done.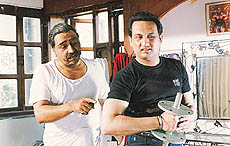 Whether it is Dekh Bhai Dekh, or Movers and Shakers or Kabhi Idhar Kabhi Udhar, or even Dam Dama Dam, the Shekhar has always gone to town about the virtues of the serial and how luckcy he is to be doing it.
So is the case with the currently-on Wilayati Babu in which Shekhar plays the role of a non resident doctor in the US who falls in love with his country after he comes back. "It's the best serial I have ever done," says the highest paid TV star in the country quite forgetting he said the same of other serials as well. Surely when it comes to patting himself on the back, one good pat deserves another.
Going bilingual
Consumer is the king. At least that's what Grahak Dost, on DD-2 propheses. The 12-part Hindi serial will now also be telecast in four more Indian languages-Tamil, Assamese, Bangla and Marathi.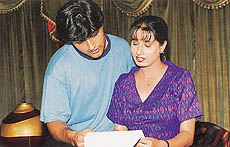 The serial deals with most areas of consumer protection like road, rail and air transport, health, adulteration, weights and measures, investments, insurance, telephone and electricity supply.
Directed by Yogesh Saigal it has stars like Shankar Chakraborty (Bangla), Biswajit (Assamese), Anant Jog (Marathi), and R. Panduragan (Tamil) accompanied by Rameshwari, Suresh Chatwal, Goga Kapur, Macmohan and more.
Grahak Dost dramatises case studies and then seeks information from subject matter specialists and experts who tell the viewers about their rights. Which in a way explains why its popularity has caught on both in the rural and metropolitan households.
— Mukesh Khosla