An Indian version of Godfather
OBVIOUSLY inspired by Mario Puzo's Godfather, this tale of glamour, money and crime on DD-2 every Thursday is likely to click with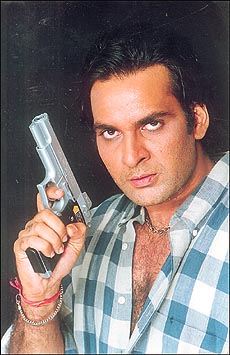 viewers who are unfamiliar with the original classic.
Agnipath is the story of a godfather who decides to give up his empire and his violent ways. But on his way to surrender he is ruthlessly killed by his own trusted bodyguard.
And then begins the race to capture power. His intelligent, and beautiful young daughter who hated her father and accused him of killing her husband inherits the empire.
But she has to deal with her brother who wants her power and also an unknown assassin who wants her life. Her bid to outwit her hidden enemies makes Agnipath a racy Mafia thriller. The saga of the Corleone family set in the Indian milieu.
There is love in the air
There is romance brewing in Family No. 1 on Sony Entertainment Television. Amidst all the madness, jealousy, pranks, fun and gaiety, love is blossoming in this comedy.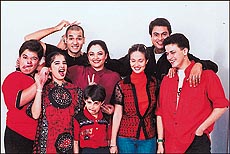 And guess who are the lovebirds... none other than Deepak Malhotra and Shalini Potiya. Through all the good times and the bad, somewhere along the line, these two lonely hearts have found solace and love in each other, but are themselves unaware of their feelings.
And the fact that their children are at loggerheads doesn't make life any simpler.
Do Deepak and Shalini reveal their feelings to each other or do they let the rivalry between their kids get the better of their relationship? Will the two warring families get together to be The Family No. 1? Worth watching for an answer.
Prime time crime time
Here's a slick crime thriller which travels from Glasgow to Mumbai. Bombay Blue is about the culture shock of a Scottish-born Indian who discovers that getting to the heart of a crime in India can be a nightmare.
When a lucky break in a drugs bust in Glasgow leads to Mumbai as one of the major suppliers of the Scottish city's heroin, Superintendent Mayberry, (Donald Stumpter) sees the chance for a career defining move and is keen for some additional help.
Seeing a single Indian face among the local police he assumes, quite wrongly, that Tarun Dev (Shan Khan) will be of great help in finding the drug suppliers.
But when they arrive in Mumbai they find a nest of corruption in the police department. Each episode revolves around a different police story as Mayberry and Dev find themselves frustratingly sidetracked from their bunt for the Mumbai drug lord.
The fast-paced Bombay Blue produced by Bobby Bedi (Bandit Queen) stars Shekhar Suman as Inspector Marathe, Mohan Agashe as Commissioner Singh and Deepak Tijori as Ali Engineer. An out-and-out entertainer for those who enjoy crime and action series.
Musical siblings
What do you call a band which comprises three brothers who are singers as well as musicians? Obviously Three Brothers & A Violin. The group had no problems finding a name!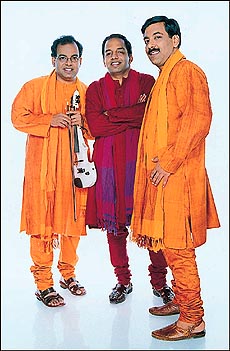 But the problem came when the three of them sat down to plan their first album. Now a year later the efforts of the America-trained brothers — Sriram, Narayan and Viswanath have paid off handsomely and Savariya (Once Upon A Time) is already making waves in the music world.
The music veers towards fusion and has almost a classical base. The eight-track album introduces listeners to new sounds and Mat Jaa, a tribute to Mother Teresa is easily the finest. The English lyrics blend smoothly with a neo-fusion composition.
But more than the album it is the video of the title song which is sure to become a favourite of all music channels. Sneak previews have already got music lovers raving about it.
Kiddy party
Celebrate Children's Day with Discovery, which offers a special full-day programming line-up to mark ''Chacha Nehru's birthday''.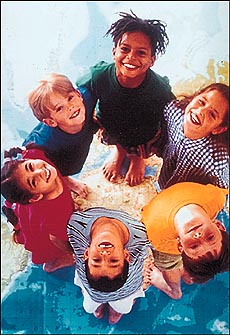 The celebrations will kick-off with a visit to popular zoos across the globe, a journey into mysterious jungles, encounters with kids excelling in sports, the cool tricks behind Hollywood movies and also the fascinating world of technology and scientific breakthroughs.
For nature lovers, there arejourneys into the wild. You can also visit cyberspace and explore different aspects of animal life or visit the Savannas of South Africa in search of the bushbaby.
Born Winners features children who have excelled in sports. These children are from different parts of the world and their sports are part of their culture. Visit their homes and meet their families and friends.
Animal crackers
Laugh out 1999 and welcome the new century with bilarious animals and their stunts on The Planet's Funniest Animals. From commercials to soaps and home videos, discover how animals can shake things up and leave viewers with the last laugh.
See some of the most extraordinary animals doing all over the globe on this show on Animal Planet which airs every Saturday in December from 16.30 p.m. to 17.00 p.m.
Join a dog for a quick water-ski adventure with a shark and a squirrel who has mastered the art of picking pockets. A dog who sells shoes, a monkey who loves swimming more than the kids do and find out what it takes to make a gorilla lose his cool.
So here's your chance to end the year with a good laugh at some of the most comic animals on earth. With segments on personal hygiene, criminal pets, clumsy creatures and pet pastimes, this show is sure to answer the call for pure animal comedy.
— Mukesh Khosla