Of Patels and motels
By Shirish Joshi
ACCORDING to the latest figures from the Asian American Hotel Owners Association, people of Indian origion now own slightly more than 50 per cent of the motels in the USA. And of those, about 70 per cent are Patels, a family name that indicates that they are members of a Gujarati Hindu sub-caste. In some small American towns people think that 'Patel' is the Hindi word for a 'motel'.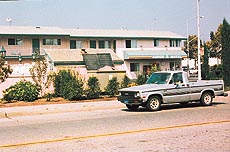 The word "motel" comes from a combination of the words motor and hotel. In the early days motels were also called 'cabin camps', 'tourist camps', 'tourist courts', 'auto courts', 'motor courts', and 'autels'. They were also called 'motor hotels', 'motor inns', or 'motor lodges'. But the word 'motel', coined by a businessman in California, stuck on. Today the USA has more than 15,000 motels. Canada has about 4,000.
The signs like 'Shady Oaks Motel' or 'Seven Maples Motel' appeared several kilometres before the 'turn here' board. Parents driving for the whole day could look forward to a grassy lawn, clean beds with attached bathrooms and a small restaurant or grocery store nearby.
The first Indian motel owner in the USA is said to have been an illegal immigrant named Kanjibhai Desai, who managed to buy the Goldfield Hotel in San Francisco in the early 1940. By the end of that decade, there were still only a handful of Indian-owned motels. One of them was owned by Bhulabhai Vanmalibhai Patel. His grandson Pramod Patel is today in hotel business in the USA. His company's portfolio includes Holiday Inns, Ramadas and Comfort Inns.
According to Pramod, his grandfather left his small village in Gujarat at the age of 29 to look for better pastures in the USA. The quota for Indians was only 100 in those days. His grandfather met Desai and decided to plunge into motel business. He leased Auburn Hotel in San Francisco. Rest is all history about the Patels and their motels.
Why did the Patels choose hotel industry? Patels do not like to take up jobs and work for others. We all know the Sanskrit proverb Atithi Devo Bhava (Guest is like God). Hospitality is inbuilt in all Hindus, and Patels were no exception. The guest is God and gods also brought gold for Patels to spiral up and up in motel ownership.
The motel business started in the 1920s, when a small American business man bought a grocery store with a petrol pump and a hectare of adjoining land on a highway near Dodge City, Kansas, in the USA Freeways were not built then.
In summer when families drove to visit their relations and friends in other cities or just for sight seeing several families came to the pump in the evening to fill their tanks and then proceeded further looking for a lodging place.
When they saw the open green patch of land near the pump, they asked if they could camp in the field overnight. The shopkeeper agreed, because most of the families bought coffee, eggs and bread for a quick dinner and early breakfast from his shop. Playing host to the families was found profitable. He put up a board saying, 'Welcome to the Free Auto Camp Ground'.
Very soon 8 to 10 families were camping every night. The number was more on Fridays. He then installed a few picnic tables, running fresh water taps and electric lamps on poles. He put up a new sign board: 'U-smile Auto Camp. $ 0.25 per night.' When municipalities in towns offered the same facility free, he moved to the next phase.
He built 15 'tent houses' with wooden roofs and walls. Each 'house' had a wash basin with fresh running water, gas stove, a double bed, etc. The cost:$ 1 a night paid in advance so that the tourists could drive away in the early hours without waiting for settling the bills. The board now read: "Your Home Away From Home," the project was an instant success.
Motels came to be places where guests were introduced to novelties. In the motel, many Americans saw their first color television, their first automatic coffee-maker, and the like.
Those who took rooms at 5 p.m. watched others arrive, later as they relaxed in lawn chairs in the evening, new friendships developed. People talked of their hometowns, heat on the road and the distance-covered etc. In the morning they departed one by one. The friendship developed yesterday evaporated in the morning air.
Most motels do not require any reservations because many automobile travellers are not sure where they will spend the night. Almost all-roadside motels have large neon signs that tell whether vacant rooms are available or not."Vacancy"indicates vacant rooms, and not jobs. Motorists can see these signs from their car and do not have to stop to find out if a motel has any vacancy.
Back in the seventies and eighties more and more Patels started to come from India. They liked to help each other. There were very low down payments on the motels, and the previous owners financed 85 or 90 per cent of them. That made it very easy for us. The mortgages were for 15 or 20 years, and now they are getting paid off. So Patels are buying more hotels and motels, and they are having a big success.
Patels believe in working hard. Sevently or 80 per cent of them were small farmers in India, and they were committed to work hard. All Patels are not necessarily related to each other. It's just a coincidence. Patel is a very common name in the state of Gujarat just like Smith and Johnson in the USA.
Patels do tend to be business people. They do not engage in illegal activities. They are very calm, and they try to live in peace.
Patels turned to motels because they could buy cheap ones to start with. They and their families could live rent-free. Educated members could work in the office while the lesser-educated cleaned rooms, did laundry and attended to repairs. Even school-going children helped on weekends. If the paid employees did not show up for one reasons or the other, owners rolled up their sleeves and cleaned the rooms and even bathrooms.
Their strong family ties, close-knit communities and a willingness to invest years of sweat and hard work propelled the first wave of motel ownership. They borrowed from fellow Patels or Indians and a simple handshake was often a sufficient guarantee. They started in marginal and sometimes risky areas that Americans were not interested in going into.
A cheap, comfortable tourist accommodation was a good idea when Ford's Model T went chugging down the road. Today when people drive big limousines and vans at more than 120 km/hr on freeways, it is still a good idea. And it will be so in the 21st century.
And Patels of India could be the single most influential force in this multi-billion dollar hospitality business.