Playing mind games in Mysore
IT'S on. The country-wide search for the brainiest Indian has reached the royal city of Mysore and Mastermind India on BBC world continues its test of knowledge and nerve with contestants from all over the country.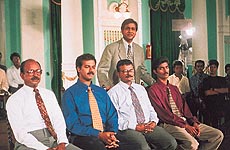 The new series has an interesting blend of specialised subjects ranging from mythology to literature and sports to politics, interspersed with rounds of general knowledge questions.
The south zone prelims in Mysore have been recorded at the Lalitha Mahal Palace, built by the erstwhile Maharaja of Mysore to host the Viceroy of India.
Over 1,000 people staked their claim to participate in the show but only 64 could pass the written test. For the next few weeks they will appear every Monday at 10 p.m. to decide who is the brainiest of them all.
Comic replacement
In the sudden and untimely demise of Jatin Kanakia, the world of television has lost a vibrant comedian who lighted up serial after serial with his trademark humour.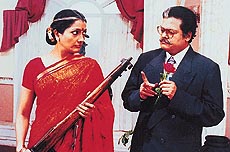 The numerous serials he was working in have been hard put to find an appropriate replacement. Perhaps the worst hit was Hum Sub Ek Hain on Sony in which Kanakia played the pivotal role of a retired Brigadier K.K. Khachroo.
After a hectic search, the serial makers have finally found a replacement. Sudhir Pandey will now play the whimsical brigadier.
Though better known for his sob-sob role of a single parent of girls of marriageable age in Amanat, Pandey is equally adept at comedy and serious family dramas. He is best remembered for his role of an eccentric millionaire in Yeh Shaadi Nahin Ho Saakti.
Whether he'll measure upto Kanakia and his almost perfect sense of timing is something which the next few episodes will show.
Godly tales
Here's something very Indian for kids. B.R. Chopra Films and HTV are co-producing mythological stories from Amar Chitra Katha.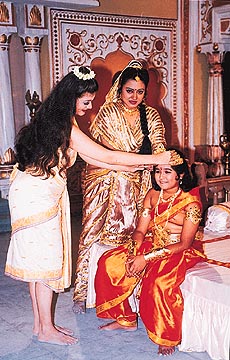 The first of the series comprised stories of Lord Ganesh, the prime remover of obstacles in a person' s life. Then followed stories of Bal Krishna from his birth to the time he grows up.
Heartened with the success, the two companies are now going ahead with a full-fledged series on Indian gods and goddesses which they hope will enthuse young people.
Says Ravi Chopra of B.R. Chopra films, "I read these stories as a child and my children read them today. Now they can watch them on TV."
Interestingly, these stories don't need stars to add value. That's because they have an intrinsic strength of their own and are aimed not just at children but the entire family.
Hopefully they should give viewers a breather from the ever-increasing western influence on television.
Call of the mountains
For a soprano, it is the opera; for an actor it is the Oscar; for an international athlete it is the Olympics and for a mountaineer, the pinnacle of success is the Everest.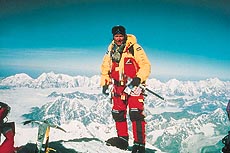 Such has been the lure of this highest peak in the world that over the years expeditions to the Himalayas have increased manifold and the rush shows no signs of abating.
It is estimated that over 100,000 trekkers visit the Himalayas every year. And of them recently were two Canadian friends who set out to conquer Mount Everest. Interestingly this was their third attempt at scaling the summit.
Follow their adventure on Above All Else: The Everest Dream on the National Geographic Channel on November 27 at 6.30 p.m. Experience danger and drama as the two Canadians lead a perilous expedition.
A very absorbing programme for those who enjoy adventure and the mountains.
Your honour
There's no fight like the fight for honour, said Shakespeare, and that appears to be the underlying story of Kachchi Raahein on DD-I every Wednesday at 10.30 p.m.
The serial revolves around a man's struggle to regain his lost reputation and re-establish his good name by exposing the people who bring him disrepute.
Jaykrit Sinha accomplishes this by a single-minded pursuit of the truth in order to break the web of a dreadly syndicate, expose its underworld activities and unmask the real criminals.
Sinha, a senior police inspector is honest, upright and fearless. He is acknowledged by his superiors as one of the finest officers in the force.
But then, his crusade against social crimes leads him to a case against the syndicate — a well connected and extremely organised web of underworld operations on the wrong side of the law. Jaykrit Sinha is to tackle this operation undercover and as a result. He is falsely implicated and sentenced to a prison term.
Pankaj Dheer plays the avenging cop with aplomb. A pity, such fine talent as his has been ignored by Bollywood.
— Mukesh Khosla