BETTER THAN THE BEST
By Ashwini Bhatnagar
"YES, Prime Minister.' That's what I said. What else can you tell the Prime Minister?", Atomic Energy Commission Chairman R. Chidambaram replied with a chuckle to a question as to what his response was when he was told about the ( then) proposed nuclear tests in Pokhran. "It took us a month to get everything in place," Chidambaram continued with a twinkle in his eye. "It went off perfectly. In fact, all the parameters were exactly as we had calculated before we went for the actual detonations." The quiet confidence of the man who holds one of the most sensitive jobs in the country has to be seen to be believed. "The vision of a nuclear India that Homi Bhabha and Pandit Nehru had has been fully realised," he says. "We are now looking at the future. Our immediate task is Vision 2020 and through it we have to prepare for the next century."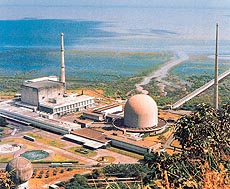 Chidambaram has reasons to look back with satisfaction. There is , perhaps, no other sector in the country that has in its "quiet and efficient" way delivered what it had promised itself and the country. India is today firmly established on the world nuclear map as a power to reckon with, despite the handicap of restrictions placed by the West. In a way, these restrictions/sanctions which came about after India did Pokhran I in 1974 have helped the atomic energy scientists and engineers to look within and develop their own systems and equipment. It takes some time to digest the statement made by Director of Bhabha Atomic Research Centre Anil Kakodkar when he was asked whether the material made inhouse was comparable to international standards. " Comparable? We are the best. They now have to use us as a bench mark," he replied nonchalantly.
But, as Chidambaram is at pains to stress, India's nuclear programme is not all about the Bomb only. Of course, the Big Bangs which have so far taken place have been much talked about because of the political and military implications which they entail. But the fact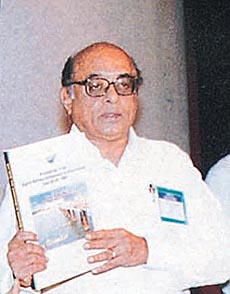 remains that they are but a very small part of the total scientific and materials output of the institutions under the control of the Atomic Energy Commission. For example, the biggest establishment under the charge of the Commission -- BARC, located at Trombay near Mumbai-- has a workforce of about 20,000 skilled and semi-skilled personnel. Of these, about 4,500 are scientists and engineers-- men and women who have highly specialised skills in different branches of science and technology. According to Kakodkar, "Though BARC is primarily a technology institution and has distinguished itself in technology development, you name a discipline in science and engineering and you will find a group working in it at BARC. It is a goldmine. In many of the basic research areas, BARC is rated as one of the best institutions in the country. For example, in physics we are rated as the third best institution, way above many of the universities and specialised research centres in India. For a technology institution to achieve this level of competence is rare."
Kakodkar also emphasises that BARC is not about Rand D only. "Here we have R &DDD; meaning research, development, demonstration and deployment. There is, of course, a very strong emphasis on basic research. But that research has to be developed into technologies which not only have to be demonstrated as workable but also deployed in specific areas of utilisation. This is our credo at BARC. And for this to happen,we have the trinity-- energy, materials and processes-- which lead up to the end result."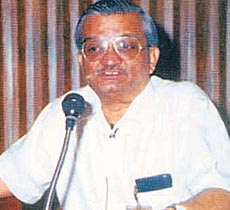 The focus and the buzz word nowadays, therefore, is energy or nuclear power. "This is our top priority, nothing else, " says Chidambaram. "If we have to take the country forward, we need energy. It is a critical input for ensuring a better life for our people. But where is the energy? Our per capita energy consumption is seven times less than the world average. And if we want to raise it sufficiently, we will have to turn to nuclear power. There is no other alternative. As much as 73 per cent of the total power is thermal. Hydro generation is 24 per cent and nuclear just 2.6 per cent. However, our coal reserves are going to last for 90 years and oil for 21 years. Gas reserves are good for another 30 years or so. So, we have to turn to an inexpensive and sustainable source of electricity --- nuclear power. Thirty per cent of the total power generation in Japan is from nuclear power stations. In the USA, 20 per cent comes from this source. India, too, will have to adopt it if it wants to better the lives of its citizens."
It is, therefore, not surprising that throughout the five-day interaction with atomic scientists and engineers at BARC organised by the NUJ School of Journalism and Communication at Trombay, journalists were exposed to the potential of the atom in turning around the economic condition of the country. The first-hand experience of the facilities and the transparency of approach displayed by officials and scientists showed the earnestness of the establishment in harnessing the power of the atom for peaceful and welfare purposes.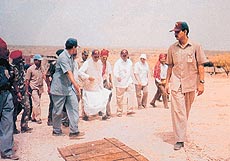 This is evident from the fact that plans are already afoot to phase out uranium as fuel for reactors and replace it with thorium. The genesis of the programme can be traced back to 1954 when Homi.J Bhabha drafted the three-stage nuclear power programme which was aimed at using our natural resources of uranium and thorium. It required the building of pressurised heavy water reactors which used natural uranium as fuel for producing power and plutonium fuel in the first stage. The second stage entailed building of fast breeder reactors using plutonium as fuel and producing electricity and more plutonium and uranium 233. The third stage was thorium-based reactors.
In order to attain technical capability in managing nuclear power plants indigenously, two boiling water reactors were set up at Tarapur on a turn key basis. The Tarapur Atomic Power Station (TAPS) became operational in 1969 and India came on the nuclear power map. Subsequently, two prototype heavy water reactors were built at Rawatbhatta (Rajasthan) with Canadian help.These commenced commercial production in 1972 and 1980. They were followed by two more similar reactors at Kalpakkam near Chennai in 1984 and 1986. They were designed, built and operated entirely by our engineers and scientists.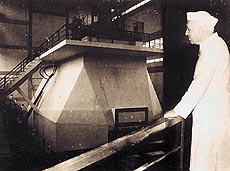 After attaining self-reliance in setting up pressurised heavy water reactors, two 220 megawatt capacity reactors were set up at Narora. They were commissioned in 1989 and 1991. Two more such plants were built and commissioned in 1992 and 1995 at Kakrapar (Gujarat). The country has now a installed capacity of 1840 MWe. Construction work is in an advanced stage at four 220 megawatt reactors, two each at Kaiga (Karnataka) and Rawatbhatta. The Kaiga station will provide electricity to the southern grid while RAPS 3 and 4 will supply power to the northern grid. The Kaiga plant is expected to go critical shortly.
Another ambitious plan is a joint venture with Russia for construction of a nuclear power unit consisting of two pressurised water reactors of 1000 MWe capacity each. Moreover, with a view to realise economy of scale, a large 500 MWe heavy water reactor system has been designed. The Department of Atomic Energy is all set to construct two such units at Tarapur. The hectic activity on the power front is aimed at producing 20,000 MW of power by 2020 AD from the present production of 1840 MW. The quantum jump will come as these units, besides others which are at the planning stage, go on stream over the next 20 years or so.
The picture looks pretty rosy as "we prepare now to meet energy requirements for the next two or three centuries." But nuclear power is risky. Radioactive waste management has raised the heckles of environmentalists the world over. In America and many parts of Europe, it is a major issue. Radioactive waste, in fact, is a dreaded word since it is claimed that it can alter genetic material among humans besides causing diseases like cancer. Moreover, it has an highly injurious impact on the environment. Remember Chernobyl?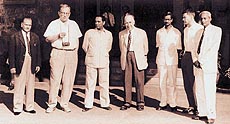 P.K. Wattal, Head, Process Development Section, BARC, pooh-poohs the possibility of nuclear waste causing sleepless nights in India. "The Americans had it coming. They used to carelessly dump radioactive material. They made a mess of it and hence the public outcry. They had no policy on waste management. But things have been different in India from the very beginning. As early as 1962, we started a waste management programme and we have been following it scruplously. We are a government agency and we owe it to the people, unlike many private firms in the West." According to Wattal, India's waste management programme is virtually fail-safe. It is a three-phase programme and is used for high-level (radioactive) waste. The first phase is calcination followed by vitrification in which the waste is immobilised. Then comes interim storage. This entails storing the waste in specially demarcated and built storage spaces. Finally, it goes to ultimate storage in geological repositories. Wattal claims that there is virtually zero possibility of waste finding its way back to the eco system once it has been immobilised and stored in the manner prescribed above. " The removal, movement and storage is done under the most stringent conditions applicable anywhere in the world. Our safety record is also way above that found anywhere else internationally.
But, what about a disaster like Chernobyl? Says Kakodkar, "It can't happen in India. After the incident happened, we formed a review committee which was chaired by me. We assumed that everything will go wrong. The core heat goes up, systems do not function, power is off etc. My colleagues said that we don't have to assume that all our safety systems go wrong simultaneously. Some things will work. But I told them to assume that nothing works and we have a problem. Can we manage it? We went into all the details, looked at our power plant designs,inventory, systems etc and reached the conclusion that Chernobyl-type situation is ruled out. We have incorporated certain design features in our reactors which are based on natural laws and will work even if there is no power/battery standby or human intervention is not possible. They will cool down the reactor and the accident will have no impact outside the plant boundary."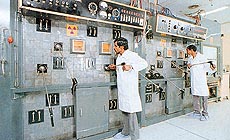 Apparently, therefore, nuclear power is safe. "It is perhaps safer than anything else," says Wattal, "For example, coal-run thermal stations pollute the environment more than a nuclear plant does. In fact, it hardly pollutes. Secondly, fly-ash is a big problem in thermal plants. The quantities are huge. Where do you take it all? Our waste, on the other hand, is hardly noticeable. Nuclear waste in India is just 75 metric cube per year and as we go on the thorium-based cycle, it will come down further. Lastly, there is no evidence whatsoever that there is radiation around the areas which have a nuclear power plant. We monitor a 30-km area around our plants for radioactivity and the results are well below the safety limits prescribed internationally. Nuclear power is absolutely safe." KSParthasarathy, Secretary, Atomic Energy Regulatory Board, points out that the safety standards prescribed and "vigorously" enforced in India are substantially above the safety norms being followed in the West. "We want the process to be absolutely safe. We have deliberately kept the regulatory aspect tough as nuclear power is as vital for us as human and ecological well-being."
We are, in fact, path-breakers in safety standards as we are in power plant design, fabrication and running. India is also the world leader in radio isotope production and in many applications in the field of medicine and medical equipment. Canada and the USA, our original benefactors in nuclear technology, are now looking at India for supply of isotopes to them. BARC-developed technology is used by hospitals around the country to treat one million patients every year. There is, therefore, more to the atomic energy programme in India than just the Bomb.And, in most of these aspects too we are the best in the world.