Reflecting the Dogri heritage
Architecture
By Kavita Bhargava
WHILE proceeding on the Srinagar-Jammu National Highway, one sees a magnificent building just 3 km from Jammu city near Ramnagar situated on the banks of the Tawi. With its unique architecture which is a blend of French and Indian forms, this building attracts thousands of tourists from various parts of the country every year. Amar Palace Museum and Library (AMML), as it is known, this castle is first of its own kind not only in northern India but also in the entire country.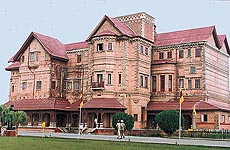 This majestic building known as Amar Mahal overlooking the Tawi and commanding a magnificent view of the mountain ranges behind, is one of those donated by Dr Karan Singh, former prince of J&K state, to the Hari-Tara Charitable Trust.
Established by Dr Karan Singh in memory of his parents Maharaja Hari Singh and Maharani Tara Devi, Amar Mahal Museum is an internationally known institution today. Built by his grandfather, Raja Amar Singh, and designed by a French architect in 1862, Amar Mahal was the residence of his mother, Maharani Tara Devi, for many years. Dr Karan Singh, as he has recorded in his widely acclaimed autobiography, spent many happy childhood moments in this gracious mansion.
Maharani Tara Devi passed away in 1967 and soon, thereafter, Dr Karan Singh and Maharani Yasho Rajya Lakshmi decided that instead of being used for private residential purpose, it should be converted into a major repository of the books and paintings that they had collected over several decades. Thus came the museum into existence which was formally opened on April 13, 1975, by Prime Minister Indira Gandhi at a historic function.
Amar Mahal Museum and Library, today, has some of the finest collections in the form of miniature paintings, drawings, lithographs, rare stamp collages, photographs, portraits, oil paintings and a large repository of rare books and manuscripts.
The museum is a three-storeyed building with big halls, long corridors, lobbies and elegantly decorated living rooms. The first hall which is known as "Nala-Damayanti Gallery" comprises a set of Kangra paintings on the Nala-Damayanti theme which is unique in the world. The delicacy of line and freshness of colour in these exquisite paintings reveal the tremendous talent of the Kangra school of painters in the 18th and 19th centuries. A descriptive catalogue on this collection by Prof B.N. Goswamy has been brought out by the National Museum. This collection attracts art lovers and art historians from all over the world.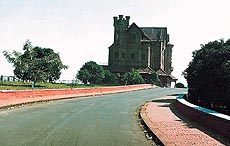 The adjoining hall, which is the largest one in Amar Mahal, is known as Durbar Hall which displays a full-size portrait gallery of the Dogra rulers beginning with the founder of Jammu and Kashmir state. Maharaja Gulab Singh, his successor Maharaja Ranbir Singh, his three sons Maharaja Pratap Singh, Raja Ram Singh and Raja Amar Singh, Maharaja Hari Singh and Maharani Tara Devi, Dr Karan Singh and Maharani Yasho Rajya Lakshmi. This hall can also seat over a hundred people and is used for lectures, seminars and other gatherings from time to time.
The corridor outside the art gallery leads to a heavily guarded room by the CRPF officials as in this room, a solid gold throne which was made by Maharaja Hari Singh and used by him for many years is on display. This priceless throne is a symbol of great historic significance and generates tremendous interest among the thousands of visitors who come to Amar Mahal every year.
On the ground floor only, there is a room which is not open for the public but has rare items on display. This is known as "Nepal Room". Maharani Yasho Rajya Lakshmi, wife of Dr Karan Singh, being the grand-daughter of the last Rana Prime Minister of Nepal, Maharaja Mohun Shumsher J.B. Rana, this is the room where photographs and objects from Nepal are displayed, including a rare portrait of Maharaja Jung Bahadur, the founder of the Rana dynasty.
The first and second floors of Amar Mahal are filled with over 20,000 books collected by Dr Karan Singh over the last century, including some rare volumes from the library of Raja Amar Singh. These cover a wide spectrum of topics, with special reference to religion, philosophy, political science as well as an astonishingly varied collection of fiction.
"There are moments in an institution's life when it is useful to ponder past, present and future. Certainly, the enhanced role of Amar Mahal Museum and Library over the last 24 years, our increased attendance and the scope of our collaboration with national and international institutions — from scholarly exchanges to major exhibitions — attest to a maturity and vitality that merit both commentary and reflection", says Aparna Tandan, Curator of the museum, who has a vast experience in the field of conservation and has a training in art-conservation from Harvard University, USA.
The exquisite architecture of this museum, with its four "turrets" and jharokhas, attract art lovers from far off places, she informs adding that with the museum in it, the building is now of great historic and cultural importance. Realising this, the museum is now seeking grant-in-aid from the Department of Culture for a phase-wise restoration.
She feels that AMML, being a multipurpose museum is not only for the viewing and entertainment of the learned and the curious, but for the general use and benefit of the public as well.
At the threshold to the new millennium, AMML is going through a phase of transition and is steadily making progress in the direction, using information technology for making its collections more accessible. The museum thus will be able to reach out to greater number of people worldwide.