He seeks solace by becoming a modern-day spirited teacher, a kind of a cocktail guru of the rich and the famous, the power-broker for politicians and industrialists. He controls everyone and everything around in his bid to avenge the humiliation handed down by the woman he loved and lost.

"My character has shades of danger. It's about the dark hero, which I find fascinating," says Puri of Antaral, a serial which is likely to grab the attention of viewers from the word go.

Goan curry music

Some are calling him India's new Spice Boy. Other say he's a sensation who is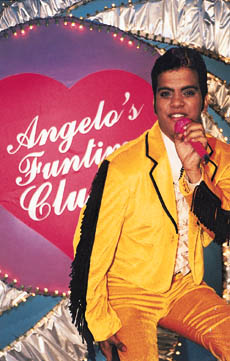 sweeping young people off their feet. Whether Angelo Monteiro lives up to the encomiums remains to be seen. But as of now it appears that Channel V is on to a winner. His retakes of pop classics on stage at Funtime Club are already grabbing attention. And the best is his raunchy take on Daler Mehndi's Dardi rab rab kardi.
A music teacher at St. Xavier's Mumbai, Angelo was identified by a talent scout who introduced him to Channel V. He was quickly whisked away to the recording studio and out came some of the coolest tracks to hit the airwaves.
"My style is global but very Goan. It comprises Letino rhythms, samba beats as also country and gospel, reggae, rock and even chacha," says Angelo and adds, "I can take a Daler track and make it my own. I love a mix of Indian rhythm with Latin beats."One wonders if Daler too loves this kind of music!
Carry on Tanaz
It's difficult to imagine that Tanaz Currim has been around for just four years. Today, the lady is everywhere. FromDo Aur Do Paanch to Gudgadee, Swabhi-maan,Tanha, X-Zone and much more.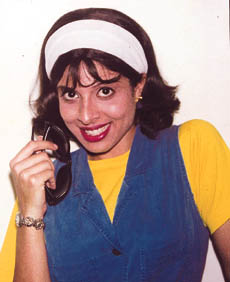 Four years ago, Tanaz stormed onto the TV screen with Zabaan Sambhalke and has never looked back since then. Her role of a Parsi girl trying to polish up her Hindi drew the maximum laughs in the sitcom and instantly endeared her to viewers.
Since then, in most of the serials producers has been cashing on trademark comedy. All except X-Zone where she plays the wife of a colonel who is possessed by an evil spirit. "The role wasn't easy," says Tanaz. "I had to do a lot of homework."
And that is Tanaz's secret of success —she prepares hard for every role. So much so that even Bollywood has started acknowledging her talent. She's doing Hudd Kardi Aapne with Govinda and Rani Mukherjee, Rakesh Roshan's Kaho Na Pyar Hai and Satish Kaushik's untitled with Anil Kapoor and Aishwariya Rai.
Says she, "I can get many more roles but I don't run after film makers." She needn't bother. Considering her good looks and excellent acting, Bollyood is coming to her at her own terms.
Science with a twist
Tired of boring science fiction shows on TV? Here's something which promises to thrill and excite. Teesri Duniya coming shortly on Doordarshan may not exactly be Star Trek quality but it's a start at least.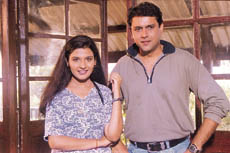 The serial revolves around a mysterious island inhabited by dwarfs. Anyone who goes to visit this island never returns. Perplexed at the recurring disappearances, a science professor alongwith a team of investigators embarks on the island to solve the mystery.
And then starts a series of events which takes the team from one scientific adventure to another with a little help from the king of the island, a dwarf himself.
"It's science with entertainment. The story is plausible and is supported by a good cast," says director K.K. Dhanuka. Indeed, it is stars like Kiran Kumar,Raza Murad and Dina Pathak who give an added dimension to this sci-fi.
Rediscovering Asia
This January, Discovery Channel captures striking images of Asia with three remarkable sights: the exquisite Cambodian temples of Angkor: the long lost Hindu temples of southern India ; and the vast Great Wall of China. The three part mini-series mini-series Mysteries of Asia, premieres on January 12 at 11 p.m.
The programme combines the best elements of scenic tour with a rich insider's history. Original footage is intermixed with rare looks at ancient texts and art work, portraits of legendary rulers and period letters and journals, to get viewers as close to an actual visit as possible.
The mini-series begins with Jewels in the Jungle, which travels to the lush Cambodian jungle to behold the ancient Khmer temples of Angkor. The episode, Secrets of the Great Wall, travels west from the shores of the Yellow Sea to the arid stretch of the Gobi Desert, delving into China's motivation to build what it called "The longest cemetery in the world."
Finally The Lost Temples of India opens with the shimmering beauty of northern India's Taj Mahal, but soon departs for a tour of the remarkable Hindu temples of southern India.
A must-see series which combines both travel and culture with an amazing deftness.
—Mukesh Khosla