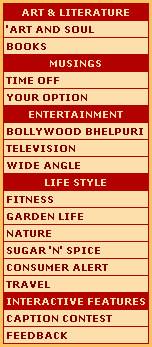 Sunday, January 9, 2000
Bollywood Bhelpuri

Filmi friends
By Madhur Mittal
IT was a most extraordinary sight, believe me. I mean, to actually find three macho MPs clasping hands, and hugging one another while grinning and guffawing as one, had to be the height of incredibility... especially considering the fact that each belongs to a totally separate political party with different manifestos! What's more, the trio trooped off into a (secluded) corner and huddled there till kingdom come — whispering, clapping and (yes, you got it) laughing some more!
The function was the Cine & TV Artistes Associations AGM and the three 'spirited' MPs from Bollywood responsible for the rare sight were Sunil Dutt, Vinod Khanna and Raj Babbar.
Incidentally, Dutt Saab was also the recipient of a memento. That didn't stop him from enjoying the happening without getting weighed down all serious like, y'know. In true (and typical) Dutt style, the senior star and politician quipped: "It goes without emphasising that I'm honoured by the honour. But I am happy because this get-together has provided me with the unique opportunity to meet with and exchange views, with two of my dearest film friends... who might otherwise have been at my throat as astute adversaries!" Touche.