Harnessing the power of the sun
by Pravin Kumar
Solar photo-voltaic cells are ideal for developing countries where many remote areas are yet to be electrified. They are a non-polluting source of power for a wide range of applications, from space satellites to oil-well platforms. With 75,000 villages yet to be electrified in India, the market and scope for solar power are immense.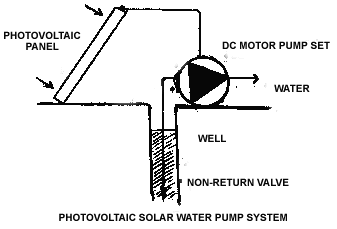 WE normally think of electricity as something that flows from a pair of wires or from a pencil cell. But, 93 million miles away from us, there is a boundless source of electricity that we are only now beginning to tap the sun.
Ultimately, of course, the sun is the source of all energy except nuclear energy. Every square metre of the earth's surface receives solar energy varying from four to seven kilowatt hours, depending on the location and the season. India receives solar energy equivalent to over 5,000 KW hours per year, which is many times the total energy consumed, in the country. Most parts of the country have 200 to 300 sunny days in the year.
There are two direct ways of harnessing the sun's energy. The first way is the thermal route, that is, using the heat of the sun for heating, cooling, water purification and power generation. The second method is the photo-voltaic route, using solar cells for converting sunlight into electricity to operate lights, pumps, refrigerators and telecommunication devices.
Solar cells make use of the photo-voltaic effect. This effect can be observed in almost any junction of metals that have different electrical properties, but the best performance so far has been from elements like silicon and germanium; these conduct electricity indifferently and are, therefore called semiconductors. In the 1940s scientists at the Bell Telephone Laboratories in the USA found that, by adding the right amounts of boron and arsenic to wafers of selenium, an electric current could be induced in the presence of sunlight. The first silicon solar cell was made by G.L. Pearson and his group at the Bell Labs. It is the Pearson Cell that is the basis of modern solar photo-voltaic systems.
Today, in countless sites in India, as well as abroad, silicon solar cells provide power for electrical gadgets far removed from electric power lines. For instance, on Bombay High in the Arabian Sea, the Oil and Natural Gas Commission's unmanned platforms monitor the flow of oil by means of electronic equipment powered by arrays of solar photo-voltaic cells. The village of Kalyan in Uttar Pradesh uses a 100 kilowatt solar photo-voltaic plant to operate domestic lights, street lights and water pumps. Solar cells also power watches, television sets and space vehicles, besides operating power sources like roofing tiles and large portable panels.
Writing in the journal Current Science, Ashok Parthasarathi of the Department of Science and Technology, says: "The solar photovoltaic market could now be truly said to have come of age, both in our country and the world over."
In India, solar photo-voltaics got off when Central Electronics Limited, in Sahibabad (Uttar Pradesh) began the development of solar cells and modules for terrestrial applications in 1975. In 1984, the first foldable module was supplied to a Mount Everest expedition. Foldable modules which can be carried as backpacks by soldiers, and used to power wireless sets, are now supplied to the Indian Army.
Silicon for solar cells is obtained from silicon oxides in rocks or from silicon, the main constituent of sand. However, many stages of refinement are necessary. Single silicon crystals up to a few centimetres wide can be obtained by dipping into a crucible of molten silicon, a probe carrying a small "seed" crystal. When the probe is withdrawn, it bears a growing column of material with the perfectly regular structure of a single crystal. Very thin slices of this crystal are cut by sawing to obtain the wafers needed for photovoltaic cells.
Growing single crystal silicon is a very slow and expensive process. An alternative is "polycrystalline silicon". This is obtained by controlling the rate of cooling, so that a slice used for a photo-cell may contain a small number of boundaries between adjacent walls. Polycrystalline silicon converts solar energy into electricity with an efficiency about 4 per cent lower than the 12 per cent conversion efficiency of single-crystal silicon. However, production costs are lower by a factor of two. Also, the lower conversion efficiency matters little in space and communication applications.
Even more economical is the "amorphous" or uncrystallized form of silicon, for the energy needed for its production is much less than for single-crystal silicon solar cells. However, amorphous silicon solar cells degrade when exposed to direct sunlight for long periods. Hence, such cells — almost all produced in Japan — are used in indoor applications like pocket calculators, electronic games and watches and in small nickel-cadmium battery chargers.
Future solar cells may be based on a compound called gallium arsenide, which can withstand up to 1000 times full sunlight. Solar cells which can be fitted almost anywhere have been developed from a new material, copper indium disselenide, at the University of Florida (USA). Two or three microns thick—which is thinner than a human hair—these cells are made by placing an extremely thin film of the material on to base surface such as plastic or glass. This film can thus be moulded to fit the surface of any article during production. Overall, these copper indium disslenide cells are a hundred times lighter and thinner than ordinary silicon solar cells. Shang Li, a researcher working with the project, says that the efficiency of the cells in converting sunlight into electricity is eight to ten per cent, 'which is not too bad', as he puts it. If they get the manufacturing process right, they hope to approach 18 per cent, which will make the thin-film cells comparable with existing solar cells.
Circular silicon solar cells have 11 to 14 per cent efficiency in converting solar energy into electricity. The theoretical maximum efficiency is about 30 per cent. High conversion efficiency will bring down the capital cost of solar photo-voltaic power.
A single solar cell generates about 0.5 volt, which is too little to run most electrical appliances. Hence, a number of solar cells are connected in series to increase the generated voltage and power. The combinations, suitably connected in parallel and sealed hermetically with a transparent front glass for weather protection, constitute a solar photovoltaic module. An aggregation of such modules mounted on a metal frame forms a panel, and an assembly of panels forms an array.
A module made up of 36 four-inch square cells will give a power output of 45 to 50 watts. The power and voltage of arrays may range from tens of watts to several thousands of watts, and from a few volts to thousands of volts. Electricity generated from solar photovoltaic systems is totally modular, that is, you can add to, or subtract from the total generating capacity without significantly affecting the cost per-unit installed capacity. Unlike other sources of electricity, solar photovoltaics can be tailored to individual needs.
The output of a solar array may be enhanced by using a tracking system such that the array faces the sun continuously. Solar cell efficiency can be improved by employing low-cost optical concentrators which reduce the area of the solar cells required. Fresnel lenses have been advantageously used in concentrators; they are much thinner and lighter than conventional lenses of the same diameter and focal length.
Unlike a thermal power plant, the output of a solar photo-voltaic system will vary according to the season, the time of day and the geographical location. However, the performance can be predicted. Using a FORTRAN-77 package and the weather data of the past 20 years, the Energy Research Centre, Thiruvananthapuram, has been able to predict the performance of solar photo-voltaic modules.
Photo-voltaic systems are best used for those applications requiring electrical energy only during daytime, for example, farm operations in India. In a typical solar photovoltaic system, the solar panel generates DC electricity, which is used by day directly to operate a DC pump. The electricity generated during daytime can also be stored in a battery and drawn off the battery at night. The National Technology Missions now use 205 deep-well submersible pumps powered by photo-voltaic systems. The solar photo-voltaic pump is ideal for small power needs because it is easy to operate, needs little maintenance and has a long life. The pumps are supplied to villages under a soft loan or leasing scheme to offset the high initial cost of the equipment.
Coming to the economics of sun-power, we have to remember that, unlike conventional energy sources, photo-voltaic uses sunshine which is available only about 30 per cent of the time in a day; this is converted into electricity at only about 12 per cent efficiency. Hence, solar cell power will have to be at least three times cheaper than
conventional systems in order to compete with them. However, solar photo-voltaic modules have been becoming steadily cheaper, primarily due to technological refinements, large volume of production and government support in various countries. In 1957, it cost $ 2,000
to produce a watt of solar power; by late 1974, this had dropped to $ 20, and in 1985, to $ 8.15. A watt now costs about $ 5.8. Further drops are expected, due to higher conversion efficiencies and optimally engineered systems, leading to market expansion.
The comparison with conventional energy sources is somewhat unfair to solar photo-voltaics. William W. Orr, an American solar energy expert, points out that fossil or nuclear energy systems have "hidden" costs, which include air pollution, nuclear waste disposal and the military costs of safeguarding oil outflows in areas like West Asia. One great advantage of solar power is that it is completely non-polluting.
Even in advanced countries, solar — power has made great strides. In the USA, solar cells have proved an increasingly popular alternative to diesel generators to power traffic safety devices. In San Juan County (Utah, USA) solar power is projected to power an unmanned airport. Photo-voltaic modules can even be used in place of a conventional roof, resulting in savings in constructional material. In Oxford (U.K.) Dr Sue Roaf, an architect, has built a house with a 5 square-metre photo-voltaic roof which generates enough power for her family of three, (that is, about 3,500 KW of gas and electricity a year) and in addition exports about 1,000 KW to the National Grid.
In areas like Rajasthan, with relatively few fuel resources and hydropower potential fully tapped, there is great scope for tapping the abundant solar energy. The Rajasthan Energy Development Agency is setting up two large solar power plants, which will be connected to the grid; In Udaipur, Jaisalmer and Ganganagar districts, 552 villages which are not likely to receive conventional grid power during the next five to 10 years are to be electrified with solar photovoltaic packs.
There are now over 75 companies in India which produce solar cells, modules and systems. Industrial production of photo-voltaic systems is reported to have touched 7 megawatts in 1995-96, compared government has been implementing a comprehensive programme covering research and development, demonstration and utilisation during the last 15 years. India has now emerged as the second largest manufacturer of photo-voltaic modules based on crystalline silicon technology. With 75,000 villages in India yet to be electrified, the scope for solar photo-voltaic technology is vast.