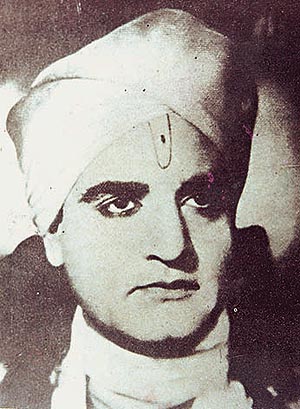 From the very beginning, Saigal was subjected to the fawning adoration of the public. As a singer he excelled in the pathos-laden songs like Ab jee ke kiya karenge, jab dil hee toot gaya, Balam aayo baso mere man mein, karoon kiya aas niras bhayee, Gham diye mustakil Kitna nazuk hai dil. Saigal was ruling the roost when singers like Manna Dey, Mohammed Rafi, Mukesh, Kishore Kumar etc arrived to join the Hindi film industry. It was therefore natural that these new comers emulated Saigal initially. Unfortu-nately, Saigal fell a prey to alcohol and died an untimely death on January 18, 1947. His death was a great setback to the film music which was still in a state of infancy. Lata, Asha and Talat Mahmood also joined the film industry. Saigal was an original singer and a successful trendsetter. Rafi, Mukesh, Talat, Kishore etc followed him to a greater or lesser extent. However soon they evolved their own style and even surpassed their ideal.

The 50s saw the emergence of creative talent from every conceivable sphere of life. Whatever their backgrounds maestros like C. Ramchandra, S.D. Burman, Madan Mohan, O.P. Nayyar, Salil Chowdhry, Kalyanji-Anandji, Ghulam Mohammed, Naushad, Khayyam, Husan Lal-Bhagatram, Hansraj Behl, Sardar Malik, Vasant Desai, Jaidev, Laxmikant Pyarelal, R.D. Burman, and Shankar Jaikishan — had in common an intense love for cinema/film music to which they brought new ideas and visions and changed the very complexion of the film music. They chiselled, the new voices of Rafi, Talat, Mukesh, Lata, Asha, Manna Dey, Kishore Kumar and turned shaped them to become the great mughals/milestones of the world of music in the Hindi film industry. As far as lyricists were concerned, some had literary backgrounds with academic qualifications, while others learnt more from books of life, having struggled hard to stand up and survive and their ideas of people and life were more in tune with those of the common man alongwith whom they grew up. Sahir, Shakeel Badayuni, Raja Mehndi Ali Khan, Rajender Krishan, Kaifi Aazmi, Majrooh Sultanpuri, Pardeep and Anand Bakshi etc rose to become enduring institutions.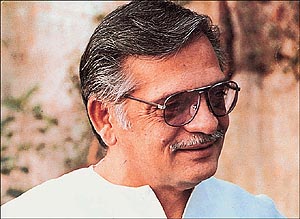 The 50s are rightly considered to the golden era of Hindi film music. Each song was packaged admirably. One could not take out to a single word or note without destroying the song. The music, lyrics and the singer's voice all jelled together. The focus used to be on the essential components of the song experience — the mind, the soul and the heart. The soul of the song was of course the voice. One has to listen to Rafi in the song O duniyan ke rakhwale, Talat Mahmood in Ay mere dil kahin aur chal, Mukesh in Ya gardish mein hoon aasmaan ka tara hoon, Aawara hoon, Manna Dey in Kaun aaya mere men ke dware Payal ki jhankar liye, Kishore Kumar in Dukhi man mere sun mera kehna, Mohinder Kapoor in Chand chhupa aur tare doobe raat ghazab ki aayee, Hemant Kumar in Na ye chaand hoga no tare rahenge, Chitalkar in Dane dane pe likha hai khane wale ka naam, S.D. Burman in O mere majhi ab ki bar ley chal paar, S.D. Batish in Kehti hain tere pyar ki mujh see kahaniyan Teri nishaniyan, G.M. Durrani in Na jeete hain na marte hain/Tujhe bus yaad karte hain, R.D. Burman in Mehbooba o mehbooa, Surinder in Socha tha kya kya hogaya, C.H. Atma in Roun main sagar ke kinare/Sagar hansi uraye, Lata Mangeshkar in Aayega, aayega aanewala, Asha Bhosle in Chain se humko kabhi aap ne jeena na diya, Geeta Dutt in Babuji dhire chalna, Shamshad Begum in Kabhi aar kabhi paar laga teer-e-nazar, Suman Kalyanpuri in Na tum hamein jano no hum tumhen jane, Suraiyya in O door janewale, waada na bhool jana, Mubarak Begum in Kabhi tanhaiyon mein hamari yaad aaeygi, Sudha Malhotra in Salam-e-hasrat kabool kar lo, Jagjit Kaur in Bachpan ki yaad dheere dheere payar ban gayee, Noorjehan in Awaaz de kahan hai, Amir Bai Karnataki in Ankhyan mila ke jiya bharma ke chale nahin jana, last but not the least, Uma Devi (Tun Tun) in Afsana likh rahi hoon dil-e-bekrar ka.
Each voice was honed to perfection by long years of classical riyaaz and love for originality. These artistes did not depend largely on the vagaries of crass commercials for their sustenance. For them satisfying their latent and creative urge was what mattered the most. They knew that if business considerations take over art is bound to be sidelined.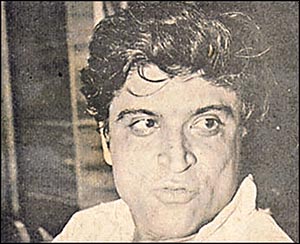 In those days each song was neatly woven into the storyline and interpreted sensitive emotions of the protagonist. Reme-mber, in the film Barsaat Ki Raat, the hero Bharat Bhush-an is standing near a blacksmith's workshop waiting for his beloved Madhubala, who fails to come. From the blacksmith's workshop, the sound of a hammer striking the anvil is heard continuously. The dejected hero starts crooning Main apne khyalon ke sadke tu pass nahin aur pass bhi hai. The hammer strokes merge into the folds of the song. When the song ends, the hammer strokes continue and slowly fade on ...
As long as these great masters remained at the helm of affairs, the Hindi film music retained its excellence and grandeur. Each of them gave his class music a mass touch with their distinct creative touch.
However, with the death of stalwart composers like S.D. Burman, C. Ramchandra, Madan Mohan, Roshan, Ghulam Mohammad, Jaidev and Shankar-Jaikishan the quality of the music declined. The standard of lyrics nosedived with the death of Sahir, Shakeel, Rajender Krishan, Shailendera, Raja Mehndi Ali Khan etc. The untimely death of Rafi, Mukesh, Kishore and Talat created a void, which the successor singers could not fill up.
The dominance of violence and vulgarity in films changed the music scene as well. Since in most of the films the hero wielded a gun or brandished a knife, instead of singing ghazals he breathed fire and brimstone. In such circumstances there was hardly any scope for music, much less melodious music. Creativity and originality suffered a setback. Plagiarism became the order of the day. Economic considerations overtook the creative considerations. There was stress only on creating songs that could sell like hot cakes. Since the modern generation was ignorant of Urdu language, lyricists wrote prosaic and conversational songs. Every thing turned topsy-turvy. Tunes are now composed first and lyrics are penned later to suit the tunes. Innuendo-packed lyrics treated woman as an object of pleasure. Emboldened by the Choli number, the wordsmiths of the industry outdid one another in display of vulgarity in film lyrics. Poets like Sameer, Maya Gobind, Rani Malik, Faaiz Anwar and Anand Bakshi numbed our ears and minds with lyrical compositions in which the people failed to find any sense even after stretching their imagination to the maximum.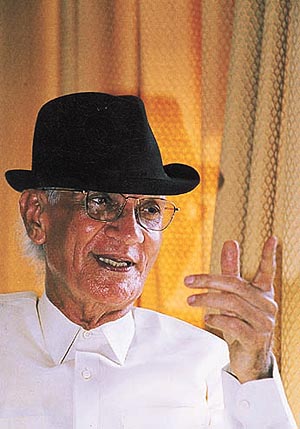 Occasionally, song by Nadeem-Sharvan, Anand-Milind, Jatin-Lalit, Anu Malik, Ram-Laxman, Vishal Bhardwaj, AR. Rehman, Uttam Singh etc penned by Javed Akhtar or Gulzar may hold the attention of the music lovers. Since most of the songs are not woven into the storyline, they die soon. Songs sans visuals make no sense at all. Lata Mangeshkar sums up the music scene saying "In the past the orchestra was used to give a short respite to the singer but now the singer gives a respite to the orchestra.
Mediocrity is now the rule and melody an exception. Anu Malik's tunes in Border and Virasat were quite captivating but he has miles to go before he can give a Saranga teri yaad mein nain huey bechain composed soulfully by his father Sardar Malik. Anand-Milind, too, have done creditably in most of their creations for their originality and creativity, but still they are nowhere near the heights achieved by their father late Chitragupt in Rang dil ki dharkan bhi laati to hogi (Patang) and Chal ur ja re panchi (Bhabhi).
Indispensable for Madan Mohan's ghazals, Late Mangeshkar has not found a replacement in Anuradha Paudwal, Alka Yagnik or Kavita Krishnamurthi for whom singing is a laboured exercise more of vocal chords than a carefully nurtured talent. Anwar, Jaspal Singh, Shabbir Kumar, Mohammad Aziz, Debashish Dasgupta, Vipin Sachdeva, Sonu Nigam, Kumar Sanu and Salamat Khan are all asphalt bread, uniformly convent-trained and then honed to clone Mohammad Rafi, Amit Kumar, Vinod Rathod, Sudesh Bhosle and Babul Supriyo are ignorant of our glorious music traditions of raags and thumries. The qualities germane to a song are recognisably absent in their voices. They are good clones of Kishore Kumar but lack his magic.
Time was when Rafi, Talat, Mukesh, Manna Dey and Kishore, Lata, Asha, Geeta, Suraiyya etc succinctly epitomised the protagonists emotions through the lyrics penned down by poets like Sahir, Shailendra, Shakeel, Rajinder Krishan, Majrooh, Hasrat etc in the soulful tunes of Naushad, Madan Mohan, Shankar-Jaikishan, S.D. Burman etc.
In those days film music was divine. It is hard to believe that — at such a distance in time ago-almost half a century there were so many wonderfully gifted people who left behind an inexhaustible treasure of perpetual joy in their music.
It is the duty of the music lovers to acknowledge the debt they owe to all fountain heads of the vast ocean film music is today. The greatest thing about growing up in India at that time (50s-60s) was the unmatched gift of aural memories that enriched life. In the words of Wordsworth, Bliss was it in that dawn to be alive, but to be young was very heaven.