Tuesday, January 25, 2000,
Chandigarh, India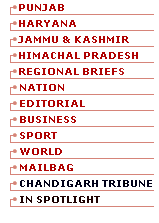 M A I N N E W S
2.9 kg RDX seized; ISI agent held
NEW DELHI, Jan 24 (PTI) — An ISI operative was arrested and deadly explosives, including RDX, were seized from him here today even as a tight security blanket was thrown across the Capital for the Republic Day celebrations.
Qamran Gohar, a Pakistani national having links with the ISI, was arrested by sleuths of the special cell and 2.9 kg of RDX, two timer pencils, two electronic detonators, a hand-grenade, a cellphone and Rs 50,000 fake currency notes of Rs 500 denomination were recovered from him, Police Commissioner Ajai Raj Sharma told reporters here.
Gohar, a resident of Lahore, had allegedly supplied RDX and other deadly explosives concealed in toys to another Pakistani national Abdul Rashid, who was nabbed on January 16.
During interrogation, Gohar, who was deported from India thrice earlier, allegedly disclosed that his controller was Shahid, a Pakistani intelligence official and that his task was to keep and forward consignments of explosives, do talent spotting and circulate fake currency.
Mr Sharma said about a fortnight back, he had delivered a consignment of explosives to an unidentified person and that toys containing explosives were given to him by another Pakistani national Hamida and one Allah Jinda.