Tuesday, January 25, 2000,
Chandigarh, India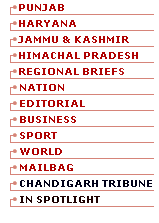 M A I N N E W S
Gunman kills 1 in Sikh shrine
EL SOBRANTE, (California), Jan 24, (Reuters) — A gunman opened fire with an assault weapon during afternoon services in a Sikh shrine yesterday, killing one person and wounding another, the police said.
Sgt, Joseph Caruso of the Contra Costa Sheriff's Department told reporters the gunman had been at the Sikh centre earlier in the day and had returned with an assault weapon after being told he could not address the congregation.
The man was arrested after the shootings. The police declined to name the suspect, but said he was not a member of the shrine.
"He walked into the shrine and fired one shot, then went directly towards the person, who told him he was not allowed to speak, and fired numerous shots, one of those striking the victim in the head," Caruso said.
The alleged gunman was arrested after witnesses tackled and held him until police arrived.