Kangra Fort
Target of numerous conquests
By Anupama Mahajan
VISITING Kangra Fort is like going down the annals of history. Most of it was destroyed in the earthquake of 1905, but whatever of it is left ignites one's imagination and creates an aura of mystery. Kangra Fort is also known as Kot Kangra or Nagarkot. Its reference exists in the Mahabharta, which states that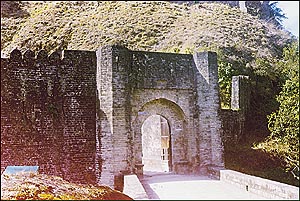 the fort was built by Raja Susharma Chandra after the great war. The recorded history of the fort begins from 1009 AD. The fort was conquered by Mahmud Ghazni in early eleventh century.
The Tomars of Delhi seized it from him and passed the control to the Katoch rulers. There has been a long line of conquerors of the fort after that. Akbar's general Khan-e-Jahan besieged it in 1572, and in 1615, Jahangir's general Sikandar Murtaza made an unsuccessful bid to gain control of it. Jahangir himself captured it in 1620. Sansar Chand II, the Katoch ruler, recaptured the fort from its Mughal governor in 1785. Amar Singh Thapa of Nepal besieged it from 1805,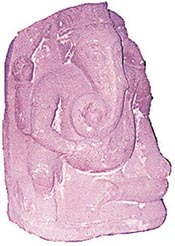 till 1809. It was surrendered to Maharaja Ranjit Singh under the treaty of Jawalamukhi in 1846. But as other important buildings, this fort too came under the British who maintained a garrison there till 1905, when an earthquake destroyed it.
The fort occupies a large area enclosed with walls over a circuit of about 4 km. As you enter, there is a hamam, which consists of an open tank with three rooms in front of the main gate. The gate, presumably built by Sikhs, is known as Ranjit Singh Gate. There is a passage beyond the gate which has impressive stone carvings of Lord Hanuman and Ganesha on its sides.