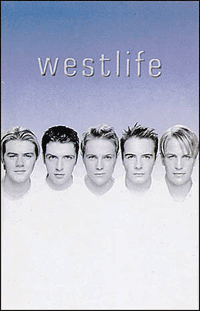 Westlife — Westlife (BMG Crescendo) «««««
Knocking veteran pop star Sir Cliff Richard out of the coveted Number One spot in Britain's Christmas hit parade recently, the five-member band Westlife is all set to follow the fellow Irish bands Boyzone, The Corrs and U2 as the next big musical act on the international music circuit. Co-managed by Ronan Keating (Boyzone), the band shook the entire music industry when it was awarded the prestigious 1998 Smash Hits 'Best New Tour Act.' Having worked with esteemed producers Biff (Spice Girls), Max Martin (Backstreet Boys) and Steve Mac and Wayne Hector (Five), the band is all set to become the biggest boy band. Mainly comprising soulful ballads and mid-tempo filers, this is a delightful album. Swear It Again is already a major hit, which also gained them a place in the prestigious Top Of The Pops. The album includes two wonderful covers Seasons In The Sun by Terry Hal and More Than Words by Extreme. The tracks worth listening to include the hit single if I Let You Go, Flying Without Wings, Change The World, What I Want Is What I've Got, We Are One, Can't Lose What You Never Had and the current chart topper Fool Again. A lot of potential there.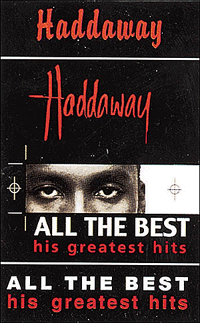 Haddaway — Greatest Hits (BMG Crescendo) ««
Haddaway stormed up the dance mucic scene in 1993, with his mega hit single What is Love. Soon after the track became a dance anthem. Haddaway's songs gained instant recognition for their energetic beats and his first hit single sold more than four million units worldwide, in countries such as the UK, France, Canada, Germany etc. The follow-up single Life too proved out to be a hit. The rest is history. His other tracks Rock My Heart, Fly Away, You're Taking My Heart, and Lover Be Thy Name were the next in the mega hit list. In 1993, he received two of the most prestigious music awards Echo and RHS Gold. Now Haddaway is back with a catalogue of remixed hits as well as reworked versions of What Is Love by Todd Terry and Mosquito Heaz. Sweat it out with this one.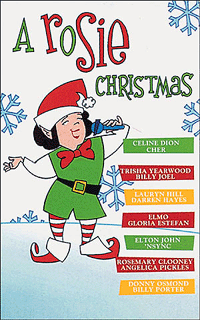 Rosie O'Donnel — A Rosie Christmas (Sony Music) «««
Listening to this album is a pretty decent way to spend a yuletide afternoon. Rosie O' Donnell presents a rosy Christmas for you. The Christmas might be over but the celebrations aren't. Here Rosie teams up with some of the most eminent musicians on earth. Celine Dion's The Magic Of Christmas Day (God Bless Us Everyone) and Cher's Christmas (Baby Please Come Home) are mellow classics, and, like the title suggests make you feel rosy. As always, O'Donnell has a magic charm that works in any season. Her other notable collaborations include Santa On The Rooftop with Trisha Yearwood, Have Yourself A Merry Little Christmas with Billy Joel, Loves In Our Hearts On Christmas Day with N'Sync, White Christmas with Sir Elton John, Gonna Eat For Christmas performed with Gloria Estefan, Last Christmas with Darren Hayes (Savage Garden) and Little Drummer Boy with Lauryn Hill. Darn fine work for the genre.
Album of the month
'99 The Hits — Various Artists (Sony Music)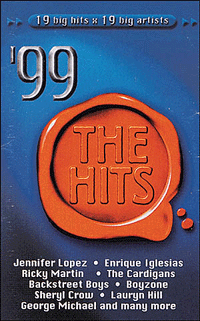 This is definitely the album of the year. The compilation offers some of the biggest chart bustes of the year 1999. And what's missing here? Practically nothing. The album proves that 1999's music was quite influenced by Spanish pop acts. The album breaks open with the latest sensation Jennifer Lopez doing If You Had My Love folllowed by Enrique Lglesias with Bailamos and Ricky Martin with the soulful ballad She's All I Ever Need. We have Boyzone with You Needed Me. Joey Mclntyre with I Love You Came Too Late, Backstreet Boys with the mega hit I Want It That Way, Human Nature with the Bangles' cover Eternal Flame, Sheryl Crow with Anything But Down, Texas doing Summer Son, The Cardigans with My Favourite Game, Suede with She's In Fashion, Lauryn Hill doing Everything Is Everything Everything and Britney Spears with the hit Baby One More Time. The only flaw that lies with this compilation is in the sequence of the songs. You start with the Spanish sensations, going to the mellower side and all of a sudden you land yuourself into the company of up-tempo tracks like Canned Heat by Jamiroquai, Outside by George Michael and Fatboy Slim with Right Here Right Now. However the results are brilliant.
— Saurabh & Gaurav
The Grrr... eat Music Zone Quiz
1. Which famous country singer recently announced that he may retire in year 2000?
2. The producer and musicians of the 'Wild Wood' sessions produced and played on an album by a French female vocalist. Who is she?
3. Which band recently released an album titles The Last Tour On Earth?
4. How are Warren G and Dr Dre related?
5. What song did Glenn (Donzig) write for Roy Orbison?
6. With which famous rocker did the Wallflowers perform at the 19997 MTV Video Music Awards?
7. What is the latest album by Savage Garden called?
8. Who wrote the famous book on who titles Maximum R&B?
9. Dave Gahan is the lead vocalist of which band?
10. What musical instrument is Vanessa Mae related to?
Answers
1. Garth Brooks

2. Atlantique

3. Marilyn Manson

4. They are Half-brothers

5. Life Fades Away

6. Bruce Springsteen

7. Affirmation

8. Dave Marsh

9. Depeche Mode

10. Violin

Top 10 singles
1. Will2K

2. Don't Cry

3. Fool Again

4. King For A Day

5. Jadoo

6. Mambo No. 5

7. Salvation

8. C'est La Vie

9. Shake Your Bon Bon

10. Be There

Will Smith ó

Human Nture ñ

Westlife ñ

Jamiroquaió

Vedic Chants

Lou Bega ò

Roxette ó

Ace Of Base l

Ricky Martin ò

Unkle l

Climbing up ñ Falling down ò Non-mover ó New entry l