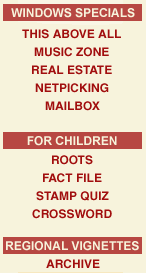 The year-I
THE names of the months of a year have a colourful story to relate. While every history may not be the perfect truth, together they give an effective insight into the way people looked at time and its passage in the past.
January, for instance, is named after the Roman god Janus and Janus was always represented with two faces, one that gazed at the past and one that looked to the future. In the light of this, when the clock strikes twelve on December 31, ringing out the old and ringing in the new assumes fresh significance since Janus-like, we too can look both ways! Janus also presided over the beginning of things, being the patron of births and thus of the first month of the year. He was also the tutelar deity of doors and gates, thus the word janitor can be traced to Janus.
In ancient Rome, in the middle of the month of February, a festival was celebrated which included a religious ceremony. For this ceremony, two youths were selected to play the leading role. Goats were sacrificed and thongs or februa, instruments of purification were cut from their hides . The two young men would run around the city and give curative slaps with these thongs to all the barren women. It was believed that the magic power of the thongs came from Juno whose epithet as the goddess of fertility was Februaria and this gave the month its name.